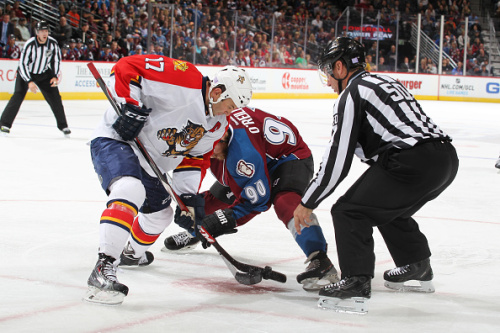 Growing up, my parents taught me the importance of humility, of recognizing your missteps and owning up to those mistakes. It seems like a fairly straight-forward concept; if you screw the pooch, you might as well be forthright about it, because nobody likes a duplicitous sack of sh!t that flips blame faster than IHOP flips flapjacks, or Mitt Romney's stance on abortion, healthcare, tax reform, and so on. Where exactly is all this proselytizing leading? Read on, good dude/dudette.
Back on July 2 of this year, a certain hack-journalist (see "me" in the dictionary) penned an article recapping the Florida Panthers' surge of activity in the recently opened free-agent market. Offering up the typical spiel as far as new signings are concerned, the piece carried on until its ultimate denouement; somewhere in its midst, however, I jotted this half-paragraph:
A career fourth-liner, center Derek Mackenzie joined the fold, adding additional depth and an extra penalty-killing option for three easy payments of $1.3 Million. The ten-year vet hops on board, presumably as a positive locker-room presence, to mentor the squad's young talent and fill the gap left by the now bought-out Ed Jovanovski.
What you read is what I wrote. What you are about to read is what I thought:
You. Have. GOT. To. Be. Kidding. Me. We couldn't hit the broad side of a barn, let alone a yawning cage, and we bring in another PENALTY KILLER? Meh, pen us in for Jack Eichel, Monsieur Commish.
Mom, dad, here's what 19+ years of parenting have amounted to-Derek Mackenzie, I am truly, deeply sorry for ever thinking that of you. I mean it. Straight up. I was utterly, utterly wrong.
As far as sports are concerned, I consider myself to be a fairly analytical guy; an athlete can pass the "eye test" with flying colors, but as far as I'm concerned, it has to translate to quantifiable production, in either the traditional or advanced statistical realm. With another failed campaign fresh in the back of my mind, I couldn't fathom to see Mackenzie as a piece of the solution to the Cats' longtime woes. I was too fixated on the dearth of "sexy" figures populating the stats sheet-a career high of nine goals, a career high of 23 points-to view the underlying peripherals; the former OHL and CHL face-off champion (no, like, I'm serious here, he won the face-off title with an obscene 67% win rate) continues to bring it in the circle. Never dipping below 51.5% in his last four complete professional seasons according to faceoffs.net (I cannot make this up, this is a legit website. Damn, I love the internet), his prowess on the draw edges out marquee names such as Henrik Zetterberg, John Tavares and Anze Kopitar in terms of effectiveness, serving as a transistor that amplifies his electric style of play.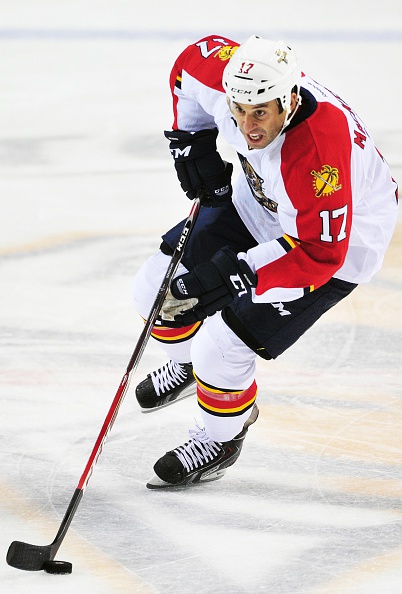 "Electric" isn't employed hyperbolically, either-the energy level that Derek Mackenzie brings on a shift-to-shift basis is not of this earth. Pinballing around the rink like a methed-out bouncy ball, he reminds me of the times my friends and I would go to the bowling alley and play some frames with the bumpers guarding the gutters; the bounces the ball took off of those boards often outnumbered the pins we'd knock down. Even in my statistically hardwired mind, hustle trumps skill every single time, and I haven't seen this much hustle since Jack Skille was ricocheting around the confines of the BB&T Center. It's a pleasant sight to see, a skater giving his all, leading by example, sacrificing his all for the logo on the front oh his sweater.
Which brings me to my final point-that all-around effort manifests itself in his defensive play. Grossing an average 2:50 of short-handed ice-time per game, Head Coach Gerard Gallant evidently deems Mackenzie as trustworthy enough to merit the third-highest average short-handed TOI figure on the roster. A jackhammer on skates, his 89 hits pace the Sunrise-based hockey club, netting 30 more than his nearest teammate, Erik Gudbranson. His 398 face-offs taken account for 22.5% of team face-offs taken, a pretty steep figure when taking into account his 44.4% Offensive Zone Start Percentage. Although he's pesky on the forecheck, the vast majority of shifts begin and end in the Cats' own zone, more of an indicator of his defensive capacity than any deficiency in his game.
In life, everybody slots in somewhere; everybody plays a role, however big or small, refined or gritty. That difference becomes ever more stratified in athletics, where star-power and panache steal the limelight from blue-collar grinders. In spite of this, every team needs a balance of skill and effort; one cannot exist without the other. Load a roster too far on either end of the spectrum, and the wheels are bound to fall off. He may not be the flashiest, but Derek f*****g Mackenzie has been instrumental in changing the culture around the Florida Panthers' locker room, and a key component of their surprising success of a season, one that currently finds them tied for a wild card playoff spot. He-offered here in trite terms-does all of the little things right; he plays every shift like it's his last. He embodies the "heart-and-soul" characterization that I previously reserved for Joel Anthony. That "A" on the front of his jersey is beyond warranted.
In essence, I was very, very wrong about Derek Mackenzie.