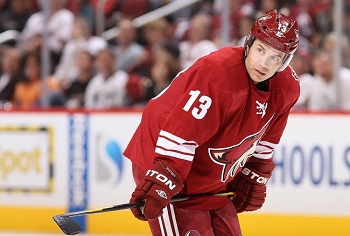 I'm not going to cry about the officiating. I'm not titling this article "Coyotes Get Reffed", although I like it and thought it brilliant last night when tweeted by my friend. Fact is the Coyotes didn't play hard enough to win this game. The referees did not help this cause, but it was not BECAUSE of the refs the 'Yotes lost.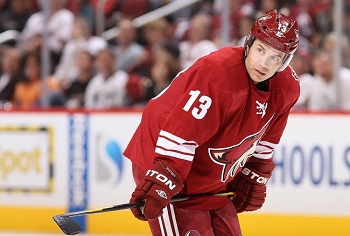 Albeit the Phoenix Coyotes played better in Game 3 than in Game 2, it proved not good enough. The LA Kings won on home ice 2-1 last night giving them a 3-0 lead on this Western Conference Finals series.
It seems that the key component, or lack thereof, for the Coyotes in this series is shots on goal. Yet again the Kings outshot the 'Yotes by a considerable amount. With only 8 SOG per period for Phoenix, it is statistically easy to see how the Kings won this game- LA finished 40 SOG last night. Smith is being far too heavily relied on and is becoming almost desperate- coming far out of his net and flopping around like Timmy Thomas, with less luck of stopping the puck.
Additionally important to consider after watching the Coyotes last night and taking in information that one can't read from the score-sheet, is simply how this team looks. They are reaching. They have poor positioning. Their passing lacks crispness. Or maybe the Kings just seem so cohesive that it makes these poor hockey basics all the more apparent. Fact is, Phoenix is being outplayed. As individuals- Doan, Whitney, Langkow, Klesla- you can see the desire. As a team… it looks like it's time for the Miracle speech. The Kings are playing this series as such a strong, unified team that it is going to be hard for the Coyotes to catch up.
Now, I understand that I may have biased opinions about the refereeing. However, as a hockey player I feel like I also have a good enough grasp on the game to know a good call and a bad call. I'm going to fully agree with Coyotes Head Coach Dave Tippett about the officiating. When asked his thoughts on the subject after last night's loss, Tippett said, "If I told you what I really thought it would cost me a lot of money. Personally, and I've talked about this a lot, the game is turning a little dishonest." He continued to talk about the embellishment of players, how it's very hard for the referees, this diving puts them in a tough situation, and they have a hard job. "We saw more than one penalty for us and against us that I thought were plays where there was embellishment. It's the reality of our game right now." When the referees are inconsistent, the effects are felt from the top down and it causes frustration in everyone- coaches, players, fans, writers, etc. It's subjective at best.
Game 4 for Sunday afternoon. It's going to be extremely important for the Coyotes to stop playing as 23 individual 1-man wolf packs, or (humor me) "Coyotes packs", and play as cohesively one 23-wolf pack. Stop the Kings offense. Play clean, physical hockey. Cover the rebounds in from of the net. Get the job done, hockey the hard way.
Love Reading About Hockey?

Subscribe to keep up-to-date with the latest and most interesting hockey news!
| | |
| --- | --- |
| | We hate spam just as much as you |