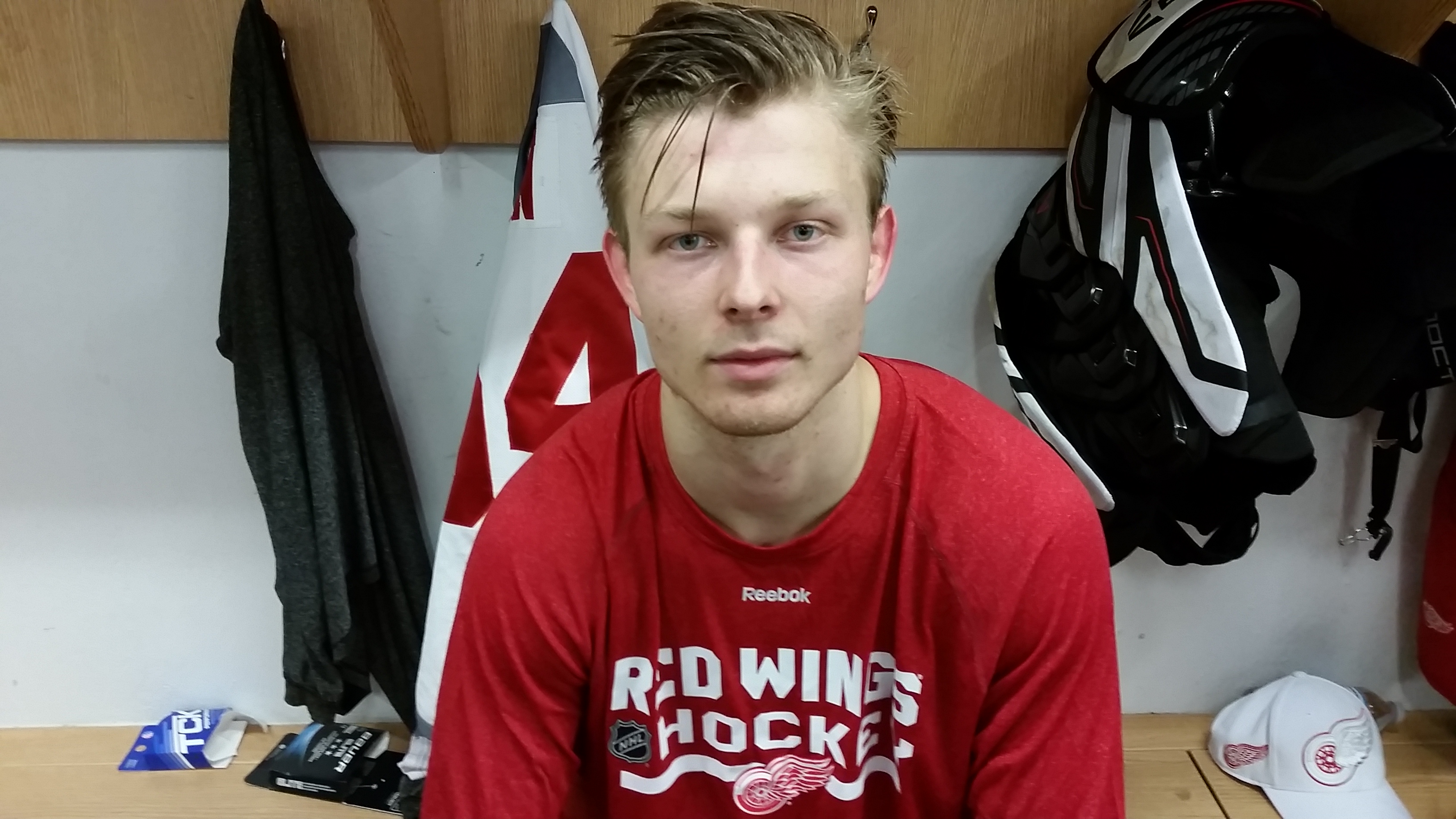 I spoke with Detroit Red Wings prospect Christoffer Ehn during July's Prospect Camp in Traverse City, MI.
Ehn had quite the season last year, playing for his country at the World Junior Championship, playing in three levels of hockey, and winning the Le Mat Trophy as national champions.
(This interview took place on July 7, 2016)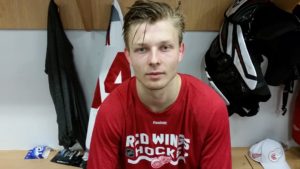 Last season was your first in the SHL (Swedish Hockey League). What was that like?
It was fun. I got to learn a lot along the way. I think I got better as the season went on, and got to play a little bit more at the end. We had a pretty amazing finish to the year.
You played in three levels last year, the U20, Allsvenskan and the men's league. How do they differ, in terms of what's expected of players and the style and tempo of play?
It's actually kind of like the same tempo, only in the SHL the players are more skilled and they are more disciplined. It's harder to create offense than in the Allsvenskan and the under-20s, but I felt like I got to know what I have to do to be successful, in the SHL as the season went on because it's a bit different than what you're used to in the juniors, where I'm used to creating a lot of scoring opportunities. It took some time and I think I'm getting used to it now. It's going to be fun heading into next season.
You played with Frolunda, finished second in the regular season, and won the championship. What were the feelings like to win the league title?
Yeah, it was a big dream come true. I've been dreaming about that since I was a kid. Frolunda was also my favorite team since I was a kid, and I remember when they won the last time, I was sitting at home watching TV, being so happy. That was eleven years ago and now I'm on the winning team, so it was an amazing feeling. We had a parade in the city and like 15,000 fans were greeting us there, it was surreal.
Now the team that you beat in the Finals was Skelleftea, which is Axel Holmstrom's team. Is there a little bit of a friendly rivalry between the two of you?
(Laughs) For sure. Unfortunately for Axel, he got injured in the semi-finals and he didn't play in the finals, but it's always fun going up there, playing against him. I know a lot of the other guys on Skelleftea as well from the World Juniors. It's a fun rivalry. I think since we're the two best teams in Sweden, we bring out the best in each other.
You both were on the Swedish World Junior team this past year. How important is that international experience, just playing against other countries' top young players?
I think it's really important, especially to experience the big games. Now we've finished fourth two years in a row, that's probably not what we wanted (laughs), but it's good having to play those elimination games and getting used to being the best when you need it.
Another camp here in Traverse City, is there anything new you hope to take away that you didn't last year?
Getting stronger on the puck maybe. The ice is smaller here, and there's going to be a lot more closer battles, so win the battles and go to the net more.
What are your offseason goals to prepare for next season?
Just to get a little bit stronger, especially like in my upper body. I've become pretty fast during the offseason so far, like really explosive [speed]. But I need the pure strength I think. So that's my goal, go back home and keep working.
Follow me on Twitter @KevinSporkaHOHM
Be sure to check out my other prospect interviews in the links below: