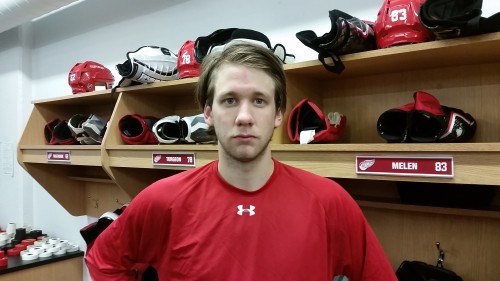 I spoke with 2013 draft pick Hampus Melen at the Detroit Red Wings' annual prospect development camp in Traverse City, Michigan. This is part of a series of interviews. This interview took place on July 5.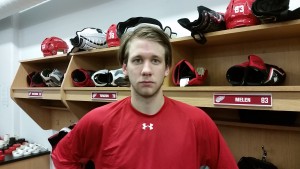 What's your first impression of the camp so far, and the organization?
It has been a nice visit, learned very much. Just positive impressions.
What was your impression of the scrimmage (Saturday), a little difficult to find chemistry with your linemates having just met them a couple days ago?
Yeah, I haven't been on ice since our season ended in March, so I went on ice two times (Friday and Saturday morning) then the game. The timing wasn't there, and it's hard to play with people you've never met before.
Describe the style of hockey that you play.
I like to have the puck and set up my teammates. (Described himself as a playmaker)
What do you think you need to work on the most in your game?
Just getting bigger and shooting more.
Did you watch a lot of NHL hockey growing up? Any players in particular that you liked to watch as a kid?
Yeah, I always liked Peter Forsberg, Henrik Zetterberg.
Did you always have the dream to get drafted by an NHL team, or when did you realize that that was a possibility?
In Sweden, when I was a kid, I didn't know what the NHL Draft was. So it was when I known you can be drafted, that was the dream.
Any similarities or differences between the North American style of hockey that you've noticed in the last couple of days, and Sweden, obviously besides the size of the rinks?
It's much bigger. In the United States it's straight to the net, just faster to the net, going to the net. In Sweden, we use the size of the rink and not so much straight. So it's a big difference I think.
If you had to compare yourself to an NHL player, past or present?
I don't know, I'm not good at, it's hard to answer.
Favorite hockey memory?
It must have been draft day. It was huge.
What do you hope to take away from this camp here with the environment, nutritional advice etc?
Yeah, just like taking the puck to the net faster, the social media [seminar], everything you have to think about when you're [in the Red Wings organization]. You can't tweet everything you want, and stuff like that. Nutritional I haven't [been to] yet. But that's something I will take with me.
What are your goals going into next season?
Taking away everything, and try to take it to Karlskrona team, the A team.
What team are you going to be playing with next year?
It's not 100% clear yet, but I think Karlskrona in SHL (Sweden's top league), if I don't take place there, they are sending me to Allsvenskan (second-highest tier).
Check out my other prospect interviews in the links below:
Follow me on Twitter @KevinSporkaHOHM