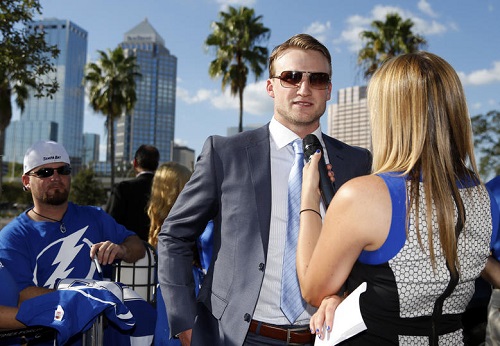 All of the people who worried about Steven Stamkos after he opened the season with no goals in three games can crawl back into their caves now. The 23-year-old made up for the goals he missed out on quickly and furiously, picking up his sixth career hat trick in the Lightning's 7-2 win over the Florida Panthers on Thursday night.
And with Stamkos' return to form — whether it was due to a return home, the Panthers being terrible or simply a statistical correction — I have to ask: Do the Lightning have the most dangerous scoring line in the National Hockey League?
I would say that Tampa Bay's top line is certainly in the top five as far as potency is concerned. Here is my top five, in no particular order:
Vancouver (Daniel Sedin, Henrik Sedin, Alexandre Burrows)
Detroit (Henrik Zetterberg, Pavel Datsyuk, Todd Bertuzzi)
Pittsburgh (Chris Kunitz, Sidney Crosby, James Neal)
Chicago (Brandon Saad, Jonathan Toews, Patrick Kane)
Tampa Bay (Ryan Malone, Steven Stamkos, Martin St. Louis)
Obviously, four of those teams are perennial playoff contenders, and one of those teams is the Lightning. It's hard to argue against Chicago, as their top line helped lead them to the Stanley Cup last season. Pittsburgh is always a heavy favorite, Detroit — as long as Datsyuk is in town — is terrifying to play against and Vancouver consistently gets the job done (at least in the regular season).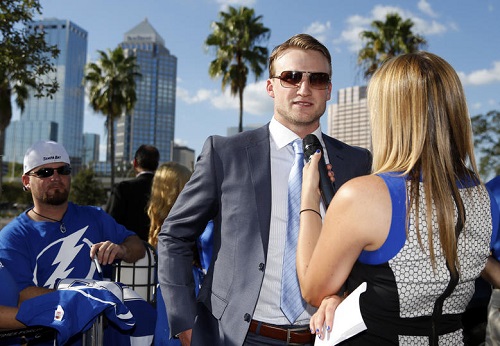 But as far as pure potency goes, let's look at some scoring numbers. We'll take the top two scorers on each line in order to narrow down the field. No disrespect to Burrows, Bertuzzi, Neal, Saad or Malone, but they don't quite put up the numbers their line mates do (although, to be fair, a couple of them have come close).
When you look at points totals from the lockout-shortened season, St. Louis and Stamkos came in No. 1 and No. 2, combining for 117 total. Crosby and Kunitz had 108, but, to be fair, Crosby missed significant time. So, while the Bolts may have had the top point scorers in the league on their top line, I would be willing to bet that a full season out of Crosby (who missed 12 games) would have vaulted Pittsburgh to the No. 1 spot.
Kane and Toews combined for 108 points, Datsyuk and Zetterberg had 107, and the Sedins totaled 85. Make of that what you will, since four of these teams performed much better than the Lightning did last season, but I find it more impressive that Stamkos and St. Louis were able to be that productive on such a poor team. The opposition may have been focused on stopping those two since there wasn't much else to worry about, but they still managed to get the job done.
Regardless, I would take Crosby and Kunitz at the top of their game before any other pair. I think the Lightning probably come in second for me, followed by Chicago, Detroit and Vancouver.
The point is, the Lightning's top line is really good. Even if you don't think they belong in the top five, they are certainly one of the ten best lines in the NHL. And they showed on Thursday night that they only need the bottom three lines to hold the other team to a draw in order to be successful. When those lines produce, the Lightning are unstoppable.
Sure, you could say that about a lot of teams. "If their bottom three lines do any good, their top line will carry them to victory." But the key is being able to do it consistently. And that is why I think the addition of Valtteri Filppula is so important. It enables Teddy Purcell and his pass-happy ways to move to the third line, and when the depth is spread out across the lines, the odds of developing consistency and chemistry are much better.
Conversely, the strength of the top line allows for flexibility. Head coach Jon Cooper was so comfortable with his top line on Thursday night that he let Richard Panik, who was scratched against Buffalo, team up with Alex Killorn and Filppula on the second line in his return.
We'll find out for sure how deadly that top line really is during the next week or so. The Lightning have a long home stand, but it's not an easy one. The Penguins, Kings, Bruins and Blackhawks will all come to town before it's over.
What a coincidence, we were just talking a couple of those teams.
So, the stage is set. The Lightning can prove they have the best scoring line in the league, or they can revert to not playing defense like they did last season and make people think, once again, that they are simply an afterthought.
But if they are successful during the course of this home stand, Lightning fans will have a lot more to be excited about than simply having the best scoring line in the NHL. If they manage to dominate that stretch, they would be letting the league know that this team is for real.
And of course, for that to happen, the bottom three lines will have to hold their own against some of the deepest rosters in the league.
This should be fun.
Notes
Steven Stamkos may not have known he was going to put up three goals on Thursday night, but he told reporters after the game he had a good feeling before the home opener. "I just had an eerie feeling this was going to be a good night," he said. Well, he was right.
Stamkos also scored a shorthanded goal against the Panthers, the Lightning's first since Jan. 23, 2011. That goal came against the Atlanta Thrashers, a team that no longer exists.
When Tom Pyatt went down with a broken collarbone on Tuesday, many thought the Lightning would call someone up to replace him. Instead, Cooper played Richard Panik, who has struggled so far this season. "I have to get back to the small things, like backcheck hard, and play the body," Panik said. "Focus on it, and I can build off it." Panik has zero points and is minus-3 in three games.
Florida governor Rick Scott announced this week the introduction of the Governor's Cup, which will be awarded to the winner of the season series between the Lightning and Panthers. They play three more times in the regular season.
Since Tampa Bay didn't call anyone up to replace Pyatt, defensemen Keith Aulie and Mark Barberio were the only healthy scratches against the Panthers.
What does everybody else think? Who has the top scoring line in the NHL?