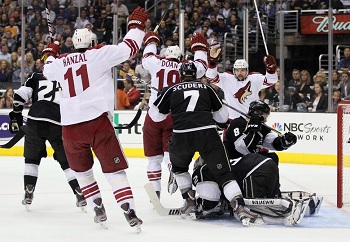 Everyone thought it was over. "Get those brooms out!" I kept hearing from Kings fans. Nay, I say. The Phoenix Coyotes will not go down so easily.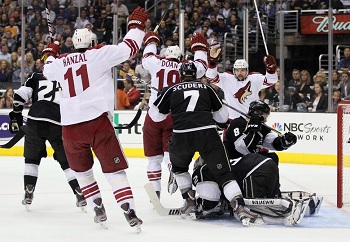 Game 4 was a scary one for Phoenix fans, but the Coyotes pulled out their first win in this Western Conference final series against the LA Kings. Behind Captain and born leader Shane Doan, the 'Yotes managed a shutout- Smith's third of the playoffs- 2-0 victory at Staples Center this afternoon.
A key factor that led to the Coyotes win was the reinstatement of lines. Ray Whitney, Martin Hanzal (who returned from a one-game suspension) and Radim Vrbata were reunited as was the second line of Mikkel Boedker, Antoine Vermette and Shane Doan. Adrian Aucoin was back on defense for the first time against the Kings and proved that he had been sorely needed.
As reported by Sarah McLellan of The Arizona Republic, Doan was a bulldog on the ice, willing the Coyotes to a fifth game, scoring both goals and playing 22:35 minutes. She stated about the game, "It seemed appropriate that what the Coyotes used to get this far would decide the outcome. And perhaps it wasn't coincidence then that the Coyotes found success with what's proved to work in the past."
Game 5 will be back in Phoenix on Tuesday and the Coyotes will be playing hard in front of their White Out crowd for the chance of another trip back to California.
Special thanks to Twitter follower Ryan Sparks, @The_Real_Sparky, for a fabulous title suggestion.