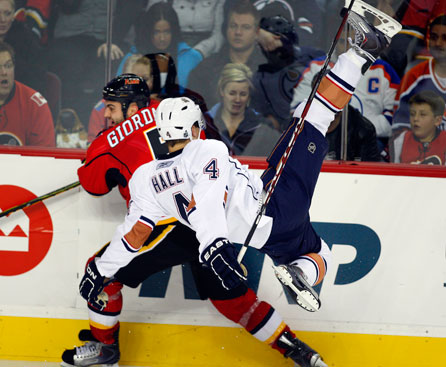 I've talked a lot about how the Edmonton Oilers have a slight weak spot in their aggressiveness – they can be incredibly fast and nimble, but sometimes what's needed is sheer brute force, a little pushback. They've made some attempts in this vein by bringing on players such as Luke Gazdic, but there's one more thing that they might consider – size.
A lot of the young Oilers are very good. They're great on the ice, they find each other magically and whip that puck to exactly where it needs to be in a split second. However… pound for pound, they're a little small, particularly when compared to some of the other teams in the league.
I know size is not the only thing – skill is the most integral element. However, on a purely physical level, Edmonton is, on average, one of the smallest teams in the league. The young Oilers that Edmonton is consistently focusing their rebuild around have skill, but when compared alongside play-off teams, the Oilers sometimes look a little like the kids who have gotten invited to the grown-ups' table.
This is obviously not the only thing that Edmonton needs to work on – if the Oilers were doing everything else perfectly, it would likely just blend into the background. However, they're not doing everything else perfectly. A lot of the forwards are young, and do have time to potentially bulk up, but let's look at it on a numerical level. Taylor Hall is hovering right around 200 pounds, while Jordan Eberle, Ryan Nugent-Hopkins, and Nail Yakupov are all around 180. In fact, the bruiser Luke Gazdic is the only one on the team weighing in at over 220 pounds (he's at 240 right now, according to the roster). While they may put on a few pounds of muscle, none of the guys around 180 are going to pack on 40 pounds of muscle – it's just not happening.
It's not an astronomical difference when all averaged out, but it's still a difference. They're quick, yes – but they're light, and it's most noticeable with the forwards. For example, let's measure out the top nine forwards in Edmonton vs. the top nine forwards in one of the teams that did well this past season, the Chicago Blackhawks. Edmonton clocks in at an average of 5'11, 191 pounds, roughly, while Chicago clocks in at 6'1, 204 pounds. That's a difference of nearly 15 pounds, which is fairly substantial. And there are a lot of teams who average a bit bigger than Chicago. Edmonton's forwards are quick, they're talented, but if they go head to head against equally talented players who have ten or twenty pounds on them, it's going to make things difficult.
Just like they need to get a bit of aggressiveness into their speed show, Edmonton may find it beneficial to bring in a couple extra pounds of muscle to bump up their average to a comparable stat.