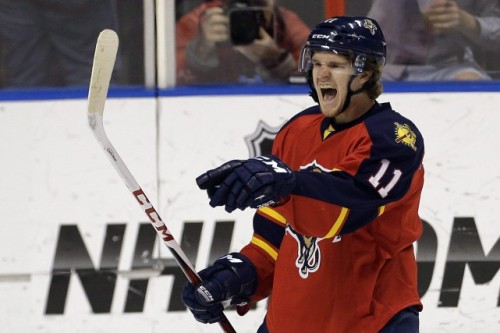 The Florida Panthers, 18 games into the 2015-16 campaign, find themselves at a bit of a crossroads. Owners of an 8-7-3 record, the Cats have receded as the season has stretched on, occupying the fourth spot in the Atlantic division with 19 points through 18 games. The squad is adequate on both offense and defense, their 2.67 GF/GP and 2.44 GA/GP clocking in at 16th and 12th league-wide, respectively. And while the powerplay boasts a top-ten ranking (for what seems to be the first time since the dawn of time), a mediocre 24th-ranked penalty kill drags the special teams unit back to mid-table obscurity.
Now, the fault/blame/whatever for the team's sputtering start could very well be attributed to a number of factors. While I'm predisposed to believe that a team-wide need to gel and click can be pinpointed as the culprit, others point the proverbial finger at individual players, players perceived to be failing in the quest to pull their weight and score their share of goals. Players who, following protracted offseason contract negotiations, ought to be contributing more in the offensive zone.
Namely, I'm talking about Jonathan Huberdeau.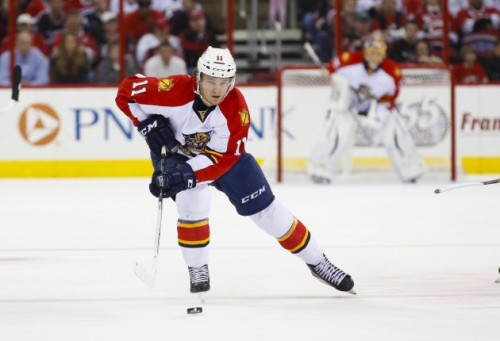 Following his inking to a two-year, $6.5 million dollar deal, the 22-year old Huberdeau was expected to set the offensive tone, so to speak. After a 15G/39A/54PT effort through 79 games, the Panthers' leading scorer entered this season with the burden of heightened expectations. What, with the tear that he and linemates Sasha Barkov and Jaromir Jagr went on to close the year, the native of Saint-Jerome, Quebec, was anticipated to break out, establishing himself as a viable offensive threat.
18 games and a lone goal later, questions abound pertaining to the young star's scoring slump. Where are the gaudy point totals of yesteryear? What happened to his silky soft hands, his goal scoring touch? Where the hell are my pants?
Capping off that string of rhetoricals with another, what exactly am I doing here? I'm here to reassure you this: Jonathan Huberdeau is fine. He's more than fine. He's going to be ok.
Let's view this claim through a purely stasistical lens:
Per NHL.com's stats and splits log, Huberdeau has let loose 37 shots through his 18 games played, on pace for approximately 169 efforts on net throughout the course of an 82-game season. This number aligns perfectly with last season's figure of 169–the only difference is that the puck isn't finding the twine. Shooting at a paltry 2.7%, this particular stat comes in well below both Huberdeau's career average of 9.2% and the league-wide mean of 8.96% (shouts out, QuantHockey). What this boils down to is the realization that yes, this figure is absolute dogsh*t, but it's unsustainable dogsh*t. The goals will come.
While Huby hasn't been lighting the lamp, he hasn't gone completely dormant in the offensive third. A simple look at his raw statline reveals that the French Canadian has posted 10 points, the bulk of them coming via assist. NHL.com's splits divulge a projected 45 point season, if he continues to score at his current 0.56 PPG pace. Note-this clip further assumes that Huberdeau will maintain his 2.7% shooting over the course of a full season. With his assist production of 0.50 per game aligning with last season's mark of 0.494, the skater continues to manufacture goals for his team, a stroke of luck the only thing between him and a career point scoring pace.
Additionally, the advanced statistics further paint the picture of a valuable player: not just in the offensive zone, but in all three areas of the rink. Using Puckalytics' sabermetric black magic, we can parse Huberdeau's involvement in Panthers' scoring. On the attack, Huberdeau has played a role in 38.71% of the team's total goals, top-five on the Cats and up from last year's figure of 35.21%. Other increases of note include Huby's percentages of Team's Shots For (from 28.38% to 32.36%), Team Fenwick For (from 28.26% to 31.77%) and Team Corsi For (from 28.78% to 31.90%). What's more impressive is the fact that the athlete is creating offense and driving possession on a greater scale while seeing a shift in deployment: ranking third on the Panthers in terms of Percent of Team Defensive Zone Faceoffs (33.33%), this figure presents a significant change in deployment when compared to last season's 26.08%.
In conclusion, raw goals totals never tell the true tale of an individual skater. This claim is magnified when viewed through Huberdeau's case study, a case study that unveils an all-around hockey player. Huberdeau, former Calder Memorial Trophy winner, continues to impress and improve, while playing half of the season to date without regular linemate Barkov.
As the wizened sage Homer Simpson once noted:
It's pronounced HuberDEAU, not HuberD'OH.
HAH! TOLD YOU IT WAS BAD.