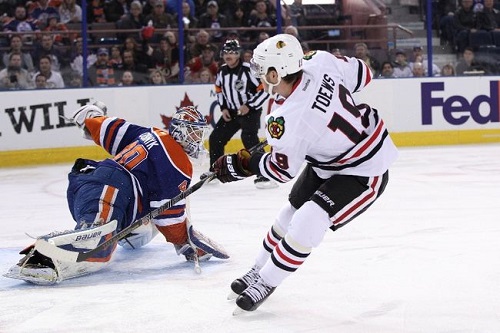 It was a tiny glimmer of hope, but it was there nonetheless. Now, I'm not so sure.
While it pains me immensely to say this, the Edmonton Oilers have been doing horribly this season. However, things have started to turn around a bit. They had a three-game winning streak, the longest this season so far, beating the Calgary Flames, the Columbus Blue Jackets, and the Florida Panthers in their games on Nov. 16, 19, and 21. They were unfortunately defeated 5-1 on November 25 by the Chicago Blackhawks.
It's always tough when the opposing team gets started with the first goal, and that was the case against Chicago. Blackhawks captain Jonathan Toews had a great breakaway and hammered a shot past Oilers goalie Devan Dubnyk about 5 minutes into the first period. The Oilers didn't manage to tie it up, but instead got further behind as Patrick Kane scored another goal for Chicago a few minutes later, followed shortly by yet another goal.
After the fourth goal, scored shortly into the second period, Dubnyk was pulled. Not because the goals were his fault, Eakins clarified in post-game interviews, but rather as a "mercy pull."
It was a strange game. The Oilers should have been enthused and confident after their three-game winning streak. While it didn't turn their season around by any means, it was a step in the right direction. However, whatever confidence the wins may have given them, or should have given them, didn't seem to show on the ice against Chicago.
Coach Eakins interviewed that "we had a day off, and a couple of good days of practice, so I really felt we were ready to go," but ultimately acknowledged that "we weren't there" in the game against the Blackhawks.
It was a real lost opportunity for the Oilers. They've crashed and burned throughout the season so far, and 21 games in, having built a small winning streak, they really should have given everything they had against the Blackhawks. A win against a formidable team like Chicago may have given Edmonton the confidence to continue their winning streak and truly, finally, turn their season around.
The only remarkable thing in the game was the crowd's almost overly enthusiastic reaction to Ilya Bryzgalov's first game in net. Their loss wasn't because of Dubnyk's errors or poor performance on his part, so it wasn't because of that. Oilers fans, as most publications covering the game speculate, just really needed something, someone, to cheer for at that moment.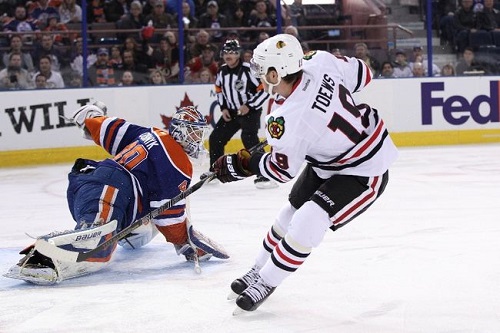 Justin Schultz, who scored Edmonton's sole goal of the night in the second period, echoed Eakins' statement and said "we just didn't have it tonight, it just wasn't there. We've just got to forget about this, learn from it and move on."
Nugent-Hopkins, who helped with Schultz' goal, interviewed that "we've got to get back to that [style of play] and play in the offensive zone. When we're breaking the puck out clean is when we're playing our best hockey."
This is true – part of the reason Edmonton's focus has been on nurturing the young forwards has been that their strength was in speed, in aggressive offense.
"We just came out a little flat, it definitely wasn't the way we wanted to start" said Nugent-Hopkins. "It wasn't the way we started the past few games. We've got to get back to that; this is a good team (Chicago), but I definitely thought we could have done a better job tonight."
It was a disappointing performance to say the least.
They'll face the Nashville Predators today, where hopefully they can return to their winning ways.