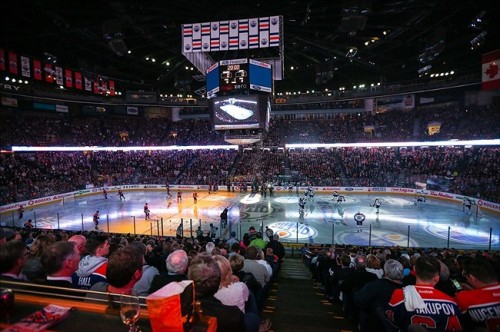 2014-15 Season Review
Record: 24-44-14 62 Pts 13th in West, 6th in Pacific
Leading Scorer: Jordan Eberle 63 points
Powerplay: 17.7% (17th in NHL)
Penalty Kill: 76.7% (28th in nHL)
The 2014-15 edition of the Edmonton Oilers had a season to forget. The Oilers entered the season with a very weak defense corps by NHL standards, a couple new veteran additions to their set of young forwards with high potential and two goalies with a lack of experience. The Oilers were not meant to make the playoffs last year, but they were expected to show some semblance of improvement. That did not happen.
Then head coach Dallas Eakins again could not inspire this group to play with any passion or effort. Night in night out the Oilers got outplayed by opposing teams, especially by teams in the West. Everything that could have gone wrong did, and the Oilers season was virtually lost in October. This led to the firing of Dallas Eakins in mid-December, who was replaced by their AHL farm team coach Todd Nelson.
Nelson had an immediate impact on the Oilers. You could tell the players liked the new coach and were willing to listen to his message and put in a better effort for him. After the change there were signs of improvement, with many notable players having significant individual improvement under Nelson as well.
In the end, it was still a very negative season for the Oilers. They failed to show any improvement and missed the playoffs for the ninth straight year. It seemed like they were destined for many more seasons out of the playoffs while management preached development of young players as their goal for next season.
The Offseason
The Oilers had one of the most memorable off seasons in team history and it all began with an imaginable stroke of luck. The Oilers somehow again won the draft lottery earning the right to draft generational talent Connor McDavid. This immediately set off a chain of events that would change the outlook on the Oilers upcoming season completely.
With McDavid in the fold, Bob Nicholson who had been tasked with performing an internal audit of the management team, took action to ensure the team would be turned around as soon as possible. Many people managing the Oilers for the past few seasons were either shuffled to different roles or fired completely. The most significant move was when Peter Chiarelli was brought in as the new GM, and he in turn brought in new head coach Todd McLellan as the man to guide this young team back to a high level of respectability and hopefully transform them into a perennial powerhouse. Peter Chiarelli had also turned over about a third of the roster through trades and free agency.
Additions: Connor McDavid, Andrej Sekera, Cam Talbot, Griffin Reinhart, Marc Letestu, Lauri Korpikoski, Eric Gryba, Anders Nilsson
Departures: Martin Marincin, Boyd Gordon, Steve Pinnizotto, Derek Roy, Jesse Joensuu, Viktor Fasth, Keith Aulie
Forwards
The forward group has been instantly improved with the addition of Connor McDavid. A once weak center depth chart now boasts a cerebral and dangerous 1 – 2 punch, with Nugent-Hopkins having taken a big step forward in his development last season. Probably the biggest benefit is that now the Oilers have a formidable top 6 forwards and opposing teams will have to decide which line will matchup against their best defensive players.
Anton Slepyshev was impressive in exhibition play, winning a spot on the opening night roster through ability to play a heavy skilled game. He possesses great speed and a wicked shot, to compliment the size he brings to the Oilers forward group.
Hall is now healthy, and should rebound from an extremely disappointing season. If he and McDavid can form some chemistry another 80 point season is not out of the question for the star left winger.
The decision to send down Leon Draisaitl makes sense since the Oilers want him develop his defensive game and have him play center in the long term. However, it did leave some question marks on the third line. Korpikoski is a better two way option to add some defensive responsibility to that line, but the possibility of running Draisaitl, Lander and Yakupov as a soft minutes offensive line makes you wonder if the Oilers made the best decision for the team to do well now. I think you may see Draisaitl come up around half way through the year if he shows improvement defensively in his game and puts up big offensive numbers in the AHL.
The Oilers should not be playing Gazdic that much as he does not help the team win hockey games, but management can't seem to let go of the idea of needing an enforcer, or the rest of the team just loves having him in the dressing room that much.
The injury to Jordan Eberle is a big loss to the Oilers, they can't wait to have him back. However, if Purcell shows chemistry with Nuge and Pouliot then Eberle could slide nicely onto the line with McDavid and Hall.
Defence
The Oilers did improve their defence this year by bringing in highly sought after free agent Andrej Sekera, and created more competition for jobs by trading for Reinhart and Gryba. Reinhart and Gryba did a good job in winning jobs over other players in camp, but that third pairing lacks a puck moving element.
The pairing of Sekera and Fayne will be expected to play tough minutes against the top forwards in the western conference. The pairing is not ideal as a top pairing, and both men seemed to struggle in the preseason, hopefully they show well in the season.
Klefbom should continue to progress into a solid top 4 defenceman, but Schultz is still a question mark. He did seem to be more engaged in preseason and the Oilers need him to take a big step forward this year.
The defense still is fairly suspect and doesn't seem to be much different than last year's edition when Jeff Petry and Martin Marincin were here.
Goaltenders
Both goaltenders were brought in this offseason and once again the Oilers are going with an inexperienced tandem. The Talbot bet looks good and he should offer much better goaltending than the Oilers had last year. Nilsson seems to have improved his game greatly working under a Finnish goaltending coach in the KHL and will be ready to go if he needs to be called upon early.
Predictions
Facts are facts, the Oilers were 27 points out of 12th in the West and 35 points out of 8th place last season. It is going to take a lot to make up that much ground in one season. However, the Oilers season can't go as bad as it did last year. They lost 5 times to the sad sack Coyotes, they won 9 games out of 50 in their conference and 4 games out of 29 in their own division. The Oilers are going to need to play better than .500 hockey against the Western Conference to even have a shot at the playoffs. Under new coach Todd McLellan, the Oilers should be more prepared coming out of training camp and have an improved offense and top tier powerplay. However, the defense is still missing enough qualified top 4 defensemen to assume the Oilers will have a sharp decrease in goals against, even with the addition of Talbot. The Oilers major acquisitions in McDavid, Sekera, Talbot and head coach Todd McLellan give them a shot to play meaningful games come March, but with the current state of affairs it is going to take a lot of good fortune for the Oilers to make the Playoffs this year. My prediction for the Pacific division standings is as follows:
Anaheim
Los Angeles
Calgary
San Jose
Edmonton
Vancouver
Arizona
I believe the Oilers will finish 11th in the West, failing to reach the playoffs for the 10th straight year.
For fun I'll throw out a prediction on how McDavid will do. There have been lots of people trying to temper expectations, which is fair considering the fact Edmonton is hockey mad. However, McDavid is a generational talent and was recently ranked on the TSN season preview by 36 year scout David Conte as being the best prospect ever in his draft class. To put that in perspective, Mario Lemieux in 1984 was ranked number two on this list.
I'll go out on more of a limb than others and say McDavid will put up 85 points this year.
Love Reading About Hockey?

Subscribe to keep up-to-date with the latest and most interesting hockey news!
| | |
| --- | --- |
| | We hate spam just as much as you |