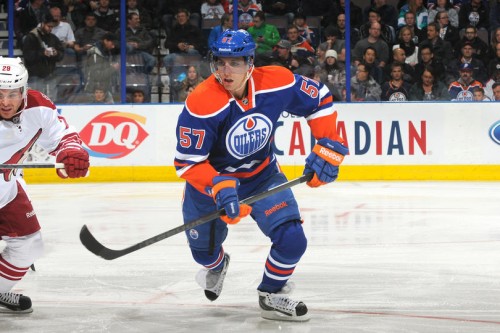 David Perron, the Edmonton Oilers winger who has been getting a lot of praise this past season for his playing, made an interesting comment in an interview with Bob Stauffer on Oilers Now recently. In the interview, Perron was discussing the teams that the Edmonton Oilers needed to be looking to for some positive examples as they head into the next season. The first on his list was the Chicago Blackhawks, which given that they've won two Stanley Cups in the past couple years (2009-2010, and 2012-2013), is certainly not the worst comment to make. They could do with learning a thing or two from the Blackhawks, apparently.
Perron was analyzing teams who had made it into the Playoffs in particular, and said that "those teams that are there, they're going to want to be there next year and they're not going to want to give their spots away. It's going to be up to us to work hard to get to the dance. There's a ton of work here to be done and it starts with the first 15-20 games. We talked about it at the end of the year, we can't just come into this season wondering what kind of team we're going to have this year. We need to know right away. We need to be playing the way that we can. I think Chicago is the best example for us because it's the style of play that can beat anything."
The Edmonton Oilers seem to be masters of tinkering. They switch around line ups slightly, they bring in new players and say goodbye to old players, sometimes in ways that are not totally clear. During the infamous rebuild, they seem to be taking the tactic of switching things element by element, observing the change, and then making the next tiny tweak. Which is fine, if only tiny tweaks need to be made. It would be fine if they were coming off of one bad season. However, the Oilers have had year after year of disappointing – bordering on utterly disheartening – seasons. They don't need to be polished – they need to be gutted, slashed, and pieced back together as a lean, mean, fighting machine the likes of what they were in their golden days. Sure, it's different players, it's a different decade, but once upon a time they were unstoppable and there's no reason that shouldn't return.
They have a window of opportunity after yet another Oiler-less Playoffs, and they should seize it. Like Perron mentioned, the other teams are not going to get any weaker, and Edmonton can't skate into another season prepared to tinker and tweak. To be successful they need to enter with a firm game plan in mind. They need to know what kind of team they are and what style of play they can execute most effectively and efficiently. If looking to other teams such as Chicago is helpful, then great. But either way, they need to establish these things within the next few months and not 20 games into the season, if they want things to change in any real way.