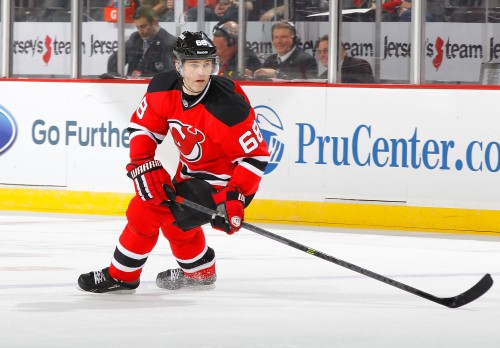 Unless you live under a rock, your world shook Thursday when Devils management sent Jaromir Jagr to the sunshine state. Jagr, 43, has had an all-star career, and racked up 11 goals and 18 assists in 57 games this season for the Devils. Recently though, the legendary forward went 8 games without a point, and had begun to publicly complain that his ice time was being cut. So, the Czech, who is 6th in NHL history with 716 goals, 7th with 1,068 assists and 5th with 1,784 points in 1,530 career regular-season games, was sent to the Florida Panthers for 2015 second-round pick and a 3rd rounder (either Florida or Minnesota's) in 2016.
What does this trade mean for the Devils? Most obviously, they've lost a leadership figure in the room – gone are Jagr's 22 years of NHL experience (that includes 2 Stanley Cups). And, no one can deny his talent. The Devils posted this video to their website and Youtube page:
https://www.youtube.com/watch?v=GF6nacSN2TE
Aside from the obvious loss of a central figure who will undoubtedly find his himself inducted into the Hockey Hall of Fame, there are some positive points to losing Jagr. Firstly, any player complaining about his ice time to the media needs to face some scrutiny. Jagr's $3.5 million contract expires at the end of the season, in effect making him a rent-a-player for the Panthers. But, more than that, his age began to show this season – he rarely fought for the puck in the corners and, if he did, he often lost those battles. He was clearly slower than his teammates. His play suggested that he was brittle. All of these factors, combined with a decreased point production, can clearly result in decreased ice time. Or, would you want an older player at all? Would investing in your future be a better option? The Devils seem to think so.
The Devils' roster still has players experience and leadership – Patrik Elias and Scott Gomez have both won a cup in a Devils jersey. Elias' talent is also undeniable, but he is a few important years younger, making his value almost at par with Jagr's – but he still may have a few more years of solid hockey in him.
The Devils also seem to want to build their future around 25-year old Adam Henrique, so those two picks become vital in their redevelopment. They can pick players who complement Henrique, who will presumably take on a greater leadership role.
Obviously, there are many other things to consider when weighing who won this trade – and it may depend on if the Panthers make it into the postseason, how far they go, and how much (or little) Jagr contributes. It also may depend on who these picks turn out to be. Only time will tell but, a day after the deal, the trade seems more evenly weighted than it sounds.
Farewell, Jaromir Jagr. Best of luck.