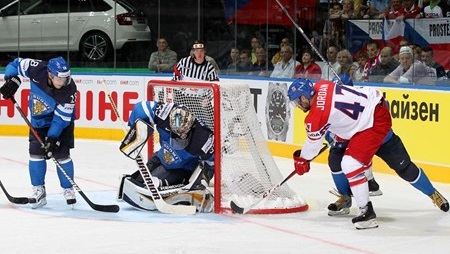 For this year's IIHF World Championship Finland set out with one goal: earn a medal. After finishing the preliminary round with the best record in their group last year, the Finns were unable to medal, finishing in fourth place and seeing their rivals Sweden take home the gold medal. In an exciting turn of events and a big shutout win in the semifinal against Czech Republic, Finland has managed to guarantee themselves a medal as they prepare to take on Russia in the gold medal match.
"Tonight was a perfect game and everything was under control," said Finland's Petri Kontiola. "We have to stay out of the penalty box, especially against Russia."
Kontiola, who has been a large contributor to Finland's success for the last few years, couldn't have been more correct about his statement. His team not only led the game offensively, but put up a very strong defense, something they have done many times throughout this tournament. The great defensive play greatly helped the already rock-solid goaltending Pekka Rinne displayed and saw Finland take the game 3-0, not even giving the Czech a chance to breath, let alone get on the scoreboard.
"There may have been talk that our team was not good enough after the first two games and that gave us a little bit of energy," said Finland's Tommi Huhtala.
Doubts for Finland were definitely present, as they found themselves in a rut, losing their first two games and picking up one more loss before barely qualifying for the playoffs, but have since turned their play around and won all of their playoff games so far. One of those losses came at the hands of Russia, who have proven to be a force to be reckoned with in this competition, remaining undefeated throughout the entire tournament.
"It's payback time [against Russia]," Finnish forward Jori Lehtera said of the final. "We have to win this game. It's the biggest game of my life. The Olympics was big, but this is a final. We have to play hard as a team and see what happens."
The gold medal match, as well as the bronze medal match between Sweden and Czech Republic, will take place on Sunday, May 25 to conclude the 2014 IIHF World Championship in Belarus.