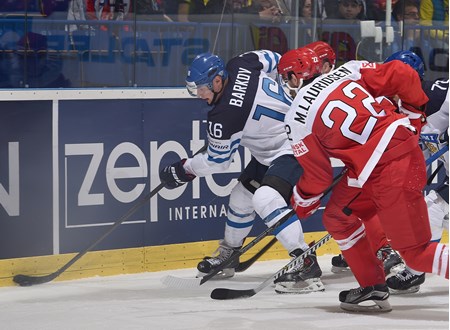 Coming off of a 5-1 loss against USA, Team Finland was looking to make a comeback and that's exactly what they did in their matchup against Denmark, shutting them out 3-0.
The Finns decided to make the game theirs right from the start, blazing to the goal time and time again to make shot after shot at Danish goaltender Sebastian Dahm. Unfortunately, Dahm kept his composure throughout the first period of play, racking up 20 saves by the end of the first 20 minutes. A majority of Finland's shots were coming from defensemen, as they seemed to have trouble getting in too close.
"Even though they didn't get inside us so much but they did a great job creating traffic in front of me," Dahm commented. "I had a tough time seeing the puck."
The Danes tried to up the pressure going into the second, making more opportunities and almost getting the puck past Pekka Rinne at one point, but they were no match, as Rinne managed to keep the puck out of the net once again. Finland reacted well to Denmark's pressure and began attacking more and using their forwards much more than what had been seen in the previous period of play. Finland's efforts finally paid off when Anssi Salmela sent the puck speeding towards the net from the blue line where it was knocked in by Jussi Jokinen for the first goal of the game. Finland soon added to their lead when Joonas Kemppainen took a shot at Dahm, who made a save but was unable to stop Janne Pesonen on the rebound, making the score 2-0 in the second.
While Dahm didn't seem phased by the two goal lead Finland had, it wasn't long before the Finns once again widened the deficit. Finland defenseman Esa Lindell, a 2014 WJC gold medal winner, fired a shot at Dahm that was knocked in by Florida Panthers forward Aleksander Barkov for the third goal of the game. The second period of play ended with Finland dominating the scoreboard 3-0.
When the two teams returned to hash it out for the third period, Finland had noticeably backed off with their intensity, focusing their play on defending the big lead they had made for themselves. Denmark managed to get plenty of good plays going, but were ultimately unable to get a single goal on Pekka Rinne, who finished the game with a shutout for Finland.