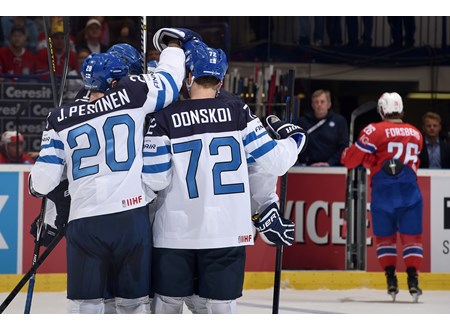 After pulling out a big 3-0 win against Denmark yesterday, the fighting Finns have managed to blank Norway in yet another Nordic showdown in the IIHF 2015 World Championship.
The Finns didn't show much in terms of powerplay in their first two bouts of the Worlds, but they managed to show in this game just how deadly they can be. Norway took several minor penalties early in the first, giving the Finns some five-on-three advantages in which they capitalized on twice in very similar goals. Both times the puck was fed to Dallas Stars prospect Esa Lindell from Juhamatti Aaltonen, Lindell took slap shots both times which were blocked, but knocked in on the rebounds by Joonas Kemppainen.
These two goals were Kemppainen's first international goals since 2009-2010 Euro Hockey Tour, but the personal milestones aren't what he's concerned with. "The first game was pretty bad for us," he said. "But now I think we played two good games and we can be happier – but we can still play much better."
Esa Lindell continued his hot streak into the second period of play, dominating the game for his team and netting his first goal of the World Championship so far and bringing his point total for the competion to one goal and three assists for a total of four points.
"Lindell and Kempainnen have been our best players since we've been here," Petri Kontiola praised, "It is great to be on the same team with them and it is fun to watch them elevate their game. They are easy-going guys off ice too and we have a lot of fun with them. They are very talented and that's the reason we won tonight."
The third stanza continued much like the first two, with Finland dominating the game and keeping Norway busy by moving the puck around and taking plenty of shots. Just as the game was winding down, Dallas Stars defenseman Jyrki Jokipakka stretched the deficit to 4-0. As if that wasn't enough, Jussi Jokinen managed to sneak one more goal in right at the end of the game, allowing his team to finish with a huge 5-0 win and a big confidence booster heading into the next game.
This win makes Finland's record 2-1 as they head into a game against Slovenia next, while Norway is sitting more towards the bottom of the totem pole with three straight losses as they head into a game against Slovakia.
Love Reading About Hockey?

Subscribe to keep up-to-date with the latest and most interesting hockey news!
| | |
| --- | --- |
| | We hate spam just as much as you |