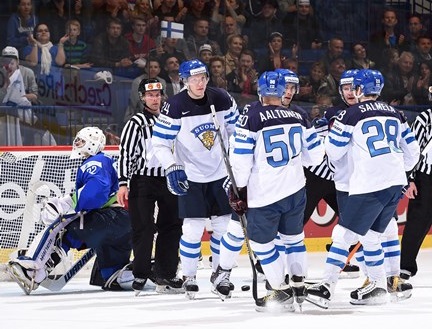 Team Finland is on a roll in the 2015 IIHF World Championship and goaltender Pekka Rinne is the shining star, landing his third consecutive shutout, this time against Slovenia.
The Finns took an early lead in the game, with forward Leo Komarov drew first blood, zooming down the left side and sliding in to get the puck past Gasper Kroselj for the first goal of the game. Less than a minute later defenseman Sami Lepisto fired off a shot from the blue line. After hitting a defender, the puck made it's way to star forward Petri Kontiola, who took a shot that sent the puck right through Kroselj's pads, bringing the score to 2-0 early in the first.
Slovenia got themselves a few chances in the period, but Pekka Rinne kept his composure and remained the brick wall that we saw in the previous two games, not letting any pucks slip by.
Heading into the second period of play with a big lead, Finland came right out of the gate ready to extend it and that's exactly what they did as Jussi Jokinen attempted to get the puck to the net, but was stopped by defender. He did manage to send the puck to Joonas Donskoi whose shot was blocked by Kroselj, but Barkov caught it on the rebound and sent it home and putting the Finns in a huge 3-0 lead. While the Finns backed off in intensity after that, Joonas Kemppainen did managed to extend the lead into an unbeatable 4-0 before the end of the period.
"Our line is getting better all the time and we're getting a lot of scoring chances," Donskoi said. "Even though I usually play with Kemppainen at Karpat I didn't expect to be playing with him here. And I know both these guys so it's getting easier to play with them every time."
The final period saw Finland mainly fighting to keep the shutout and helping to keep the puck away from Rinne. They managed to do a great job at that, as we saw the game wind down with Finland fans chanting Rinne's name.
"We weren't particularly playing to get Pekka a clean sheet, we were just playing," Komarov added. "We did what we had to do. We needed the three points and we got them."
You'll be able to catch the Finns in their next game against Slovakia on Saturday, a game that could confirm a playoff spot for this Nordic force to be reckoned with, while Slovenia faces Norway on Friday, still looking to get their first win of the competition.