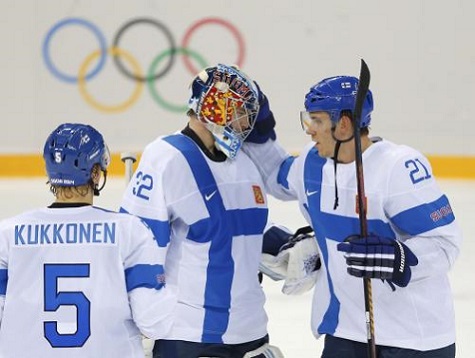 After pulling off a big win against Austria, Team Finland has returned again to pull off another big win against the Norwegians.
This game saw Dallas Stars goaltender Kari Lehtonen getting the start, as well as racking up two assists. The Finns started off strong and came out ready to score. They first did so early in the period, as 43 year old Teemu Selanne put the puck home, becoming the oldest hockey player to score a goal in the Olympics. His goal was assisted by Sami Vatanen and Kari Lehtonen. About a minute later, Lauri Korpikoski added on to the 1-0 lead, this time assisted by Olli Jokinen and fellow first-time Olympian Olli Maatta. The Norwegians kept the battle up, but were no match for the elite Finns, letting in another goal before the end of the first period, this time an unassisted goal on behalf of Jori Lehtera, bringing the score to 3-0 Finland at the end of the first period.
The Norwegians came into the second looking to close the scoring deficit that the Finns had built, but their efforts failed not even half way into the second period when Lauri Korpikoski sent the puck into the net once again, this one assisted again by young Olli Maatta as well as Tuomo Ruutu. If a four goal lead wasn't enough for Finland, they got another chance to add to it and succeeded at the 11:26 mark when Olli Jokinen widened the deficit with helpers from Sami Salo and Tuomo Ruutu. The Norwegians were unable to even come close to anything resembling a comeback during the period, ending it 5-0.
Norway started looking better at the beginning of the third period, with Per-Age Skroder netting the puck while on a powerplay, but at this point his team was in too deep to make a comeback, only closing the deficit to 4 goals. The rest of the period continued scoreless until 19 year old Olli Maatta scored for his team with assists from Petri Kontiola and Kari Lehtonen. The game ended with a score of 6-1, with Finland handing Norway a crushing defeat.
When asked about their next opponents, Canada, 43 year-old Finnish captain Teemu Selanne said, "Those guys are super-dangerous. Those guys have four All-Star lines. It's going to be a big challenge. It's going to fun."
The Finns will look to continue their winning streak on February 16 as they take on the undefeated Team Canada.