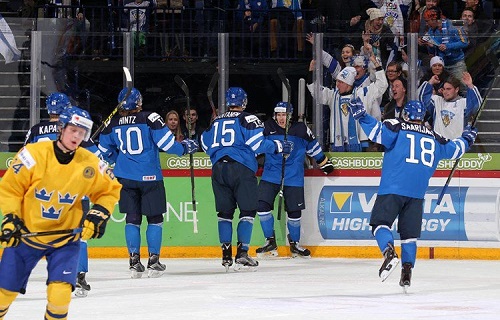 With one more round of World Junior Championship action in the books, that means there's one more team that has fallen to the almighty Finns on their quest to reclaim WJC gold, leaving only one more game between them and their goal. While this game wasn't as high scoring as some of Finland's previous games in the tournament, there were still many exciting moments as two rivals fought to move on to the gold medal game.
"It was a close game, but I think we deserved to win," forward Kasperi Kapanen said.
Finland and Sweden have always been rivals in practically all aspects of life, so it's only natural that the rivalry would carry over into sports, and games like this one make that quite clear. Both teams know each other quite well, using that knowledge to shut each other down throughout the game and turning it into a grueling battle not only for the opportunity to advance in the competition but for the pride of their homeland.
The Swedes took control early in the game, using their third line featuring the likes of Alex Nylander, Dmytro Timashov, and Rasmus Asplund to hit the Finns hard and put pressure on their defense. It was that very same line that lit up the lamps for the first time in the game when Apland managed to sneak the puck past Kaapo Kahkonen midway through the first period to put the Swedes up early. The Finns were unable to beat the Swedes in the remaining half of the first, ending the period with a 1-0 score.
With a deficit to fill starting the second, the Finland found themselves on the powerplay twice in the first half of the period, a situation they have been lethal in throughout the competition. Unfortunately for them, the top Finnish line wasn't seeming to be able to capitalize. Just as Adrian Kempe was making his way back onto the ice from the sin bin, Finland's Mikko Rantanen sent the puck over to Roope Hintz, who tied up the game. Just two minutes after their game-tying goal, Finland found themselves once again on the powerplay. While their top like was once again contained by the Swedish penalty kill, their third line once again came in, with team captain Rantanen sending the puck to Antti Kalapudas, who then scored with a beautiful wrist shot, taking the lead that Finland was able to hold on to for the remainder of the matchup. As the final horn rang out in Hartwall Arena, Finnish fans rejoiced at the 2-1 score in favor of their home team.
"This was our best game in the tournament," stated Finnish captain Mikko Rantanen after the game.
Finland will go on to face Russia, the only team to defeat them this year, tomorrow in the gold medal round to determine their final place in the 2016 World Junior Championship.