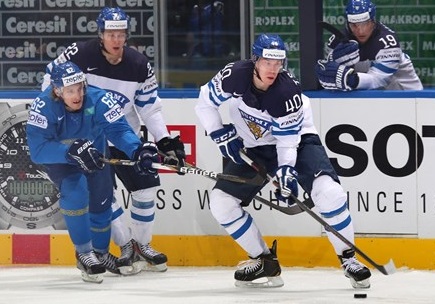 In a fight to keep up with the competition in this year's World Championship, Finland managed to pull together to pick up another win, their fourth of the tournament. As is currently stands, Finland has four wins out of seven games played, with a total of 11 points. Finland currently sits between the USA and Belarus at 3rd place for Group B.
This win comes at a time when Finland are needing all the points they can get to stay alive within the tournament to keep their playoff hopes alive and stay in contention.
"We knew we had to win this game and we got the win like we were supposed to," Finnish defenseman Juuso Hietanen said. "It was probably a bit too tight in the end. We had our chances to score more and make it easier for ourselves but we knew it would be a tough game against Kazakhstan."
While Kazakhstan had a very slow start to the game, they stepped up in the second period and managed to develop a lead against Finland, scoring several consecutive goals. The lead didn't last long, with Finland recuperating soon after. The goal that captured the lead for the Finns was a rather unfortunate one, with Olli Jokinen's shot hitting Kazakhstan defenseman Alexei Litvinenko in the face and deflecting into the net.
"They could have scored more and both goalies did great," forward Jarkko Immonen said of Kazakhstan's effort. "We took too many penalties and they got some chances. In the end we were a bit lucky they didn't score again at the end of the third period."
This game marks the last of the preliminary round for both Finland and Kazakhstan, with Kazakhstan unable to pick up a single win in seven games, thereby eliminating them from the playoffs. As for Finland, their fate depends of the results of tomorrows games.
"We'll probably be watching the games later and hoping that we can continue in the tournament," said Hietanen. "We have to do all the preparation as if we are going to play on Wednesday in the next stage. We're just hoping we will get there."