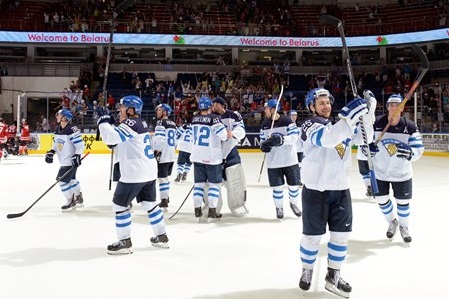 In an exciting turn of events, and with the help of a late 3rd period goal, the Finns managed to pick up a 3-2 win over Canada in the Quarterfinals, advancing themselves to the Semifinals for the fourth year in a row. Finland weren't the only ones adding on to a Semifinals streak, as the Canadians haven't gone to the Semifinals for the past five years now.
This win may come as a surprise to some due to the fact that Canada finished the preliminary round in first place for Group A and with the second best record in the tournament. This is much better than the Finns, who barely made the quarterfinals, only making it in by one point. Despite their hard work and effort, the Canadians were unable to take out the Finns, who kept putting in just as much work to create a match that was grinding and exciting to watch through all three periods.
The Finns struck first during the first period of play when Olli Palola managed to send the puck past Canada netminder Ben Scrivens on a one-timer shot while the Finns were on their first powerplay of the game. While Canada had several man advantages throughout the period, they were unable to capitalize on any of them, finishing off the first period scoreless and down by one.
Canada managed to have a better second period, tying the game at 5:41 as Kyle Turris grabbed the puck at Canada's blue line, sent it to Matt Read, who then passed it pack to Turris and sent the puck past Pekka Rinne high on his glove side. This goal seemed to add a spark to Canada's game, helping them generate several chances before snatching the lead a little over six minutes after their first goal. They kept the upper hand during the rest of the period, sending the game into intermission with a 2-1 lead.
Despite their dominating play throughout the second period, Canada were unable to fully contain the fighting Finns, who picked up the game-tying goal less than 30 seconds into the period on a shot from Juuso Hietanen that sent Scrivens jumping after the puck to no avail as it slid past the goal line. The final nail in the coffin came with three minutes left to go in the period when Jori Lehtera picked up a turnover and sent the puck to Iiro Pakarinen, who sent the puck through Scrivens' five hole on a shot that was easily blockable.
"We got a good start in the first period, but in the second period Canada was very strong," said Finnish coach Erkka Westerlund. "In the third period, we found the mental strength. We call it 'sisu' [in Finnish]. I am very proud of my team."
This win means Finland will be facing the Czechs in their semifinals matchup on May 24th.