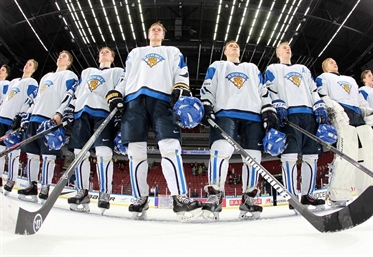 After pulling out a win over Russia and a shootout loss to Switzerland, the Fighting Finns are now heading into the World Junior Hockey Championship playoffs as second place behind the undefeated Swedes in Group B.
The win over Russia came on Dec. 30th in a beatdown that included a three goal period on behalf of the Finns. Both teams played well during the first period and seemed pretty evenly matched, with Russia recording the only goal in the period. The Russians opened up the scoring early with defenseman Valeri Vasiliev managed to get the puck past Juuse Saros, giving Russia the 1-0 lead.
Finland came out of the gate in the second looking to even up the score, which they managed to do early in the period while on the powerplay. Saku Mäenalanen beat Russia's Ivan Nalimov with a goal assisted by Teuvo Teräväinen and Ville Pokka. The lead came to the Finns at 10:20 when Henrik Haapala got the puck through Nalimov from the right side of the boards. Nalimov was beat once again before the end of the period on a wrist shot from Juuso Ikonen, bringing Finland's lead to 3-1 by the end of the 2nd. Joni Nikko scored Finland's fourth and final goal midway through the third, bringing the final score to 4-1, placing Finland in second place of Group B.
The Finns weren't so lucky when they squared off against the Swiss, losing at the conclusion of the shootout. Finland was unable to find their rhythm the whole game, missing both Rasmus Ristolainen and Artturi Lehkonen, but managed to keep up until the shootout. At one point the Swiss were up 3-1, but Finland managed to even up the odds by scoring a goal in each period. Finnish goals came from Ville Pokka, Aleksi Mustonen, and Saku Mäenalanen. Both teams went scoreless in OT, but Switzerland managed to pick up the win in the shootout. Despite the loss, Finland maintained their spot in 2nd.
The Finns will take on the Czech Republic Jan. 2nd for the quarterfinals and beginning of the WJC playoffs.