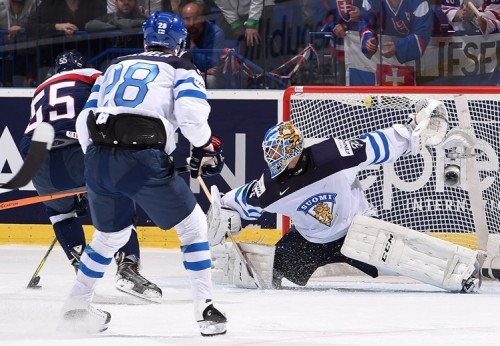 It's a scene that is becoming all too familiar. Finland has once again gone into a game and come out without a single goal being scored on them in this year's IIHF World Championship. Many expected to once again see Pekka Rinne in net after his three consecutive shutouts, but head coach Kari Salonen instead opted to give young Juuse Saros a shot, a decision that did not disappoint.
The game was a hard-fought battle against Slovakia, but Saros blocked all 22 shots that were sent his way, extending Finland's shutout streak to 4 games, a modern-day team record. Finland hasn't given up a goal since the third period of the first game against USA.
"We played really strong all through the game," said Jussi Jokinen. "We were really patient with our game, we kept going and we were confident that if it took 65 minutes, 40 minutes, whatever we would get the reward."
Finland brought a lot of intensity to Slovakia right out of the gate, delivering 13 shots in the first period alone. While they generated plenty of good chances for scoring, Slovakia stayed strong and kept the pucks out of their net. The Slovaks thought they had ended the shutout streak midway through the first. Saros made the save, but the puck went over his head and behind him, where Tomas Jurco sent it in, but the play was ruled high stick and after further review the play was called off.
The second period was equally as hard-fought, with both teams generating opportunities, but neither team allowing any goals. Both teams went on powerplays throughout the period, but even then were unable to score.
"We didn't get in front of the net enough and shoot behind the guys and that's the biggest problem," said Marek Viedensky of Slovakia. "The Finns have a good defence and we didn't really get the chance to score and when we got a chance the goalie saved it."
It wasn't until halfway through the final stanza that Finland scored the first goal of the game when Jonas Donskoi recieved a pass from Esa Lindell, brought the puck from behind the net, and got it past Slovakia's goaltender, making the score 1-0. They added another goal with just 5 minutes left in play when Juhamatti Aaltonen put the puck home for his second goal of the tournament. This brought the score to 2-0 where it remained for the rest of the game.
"We take lots of pride that we don't let up lots of chances or lots of goals," Jokinen said of his team's play. "We play really strong defence, our PK has been great and that's the thing we really want to concentrate on for the whole tournament."