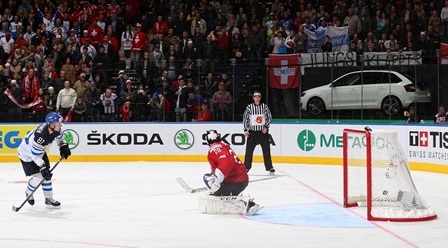 Switzerland finally managed to get the puck past Pekka Rinne, something that both Germany and Belarus were unable to do. However Switzerland fell short when it came to the shootout, losing the game 3-2. This marks Finland's third straight win in the 2014 IIHF World Championship.
It seemed as if Rinne would continue his shutout streak as the Swiss were unable to score on him for the majority of the game, but in the final regulation period they managed to score twice, ultimately leading to shootout where Rinne was able to shut down the shooters and help his team pick up a victory.
Finland goals in this one came from Tommi Kivisto and captain Olli Jokinen. Kivisto picked up the team's first goal on a big slapshot that was no match for Swiss goalie Reto Berra, flying right past him and into the net. Despite the big goal, both team's offenses weren't up to par as they normally were and this goal didn't help add much fire to the game for either team.
Olli Jokinen's goal came in the next period, where both teams seemed to be playing more competitively than the first. Finland seemed ready to pick up another shutout after that, but the Swiss snuck back in the third with two goals, but were stopped in their tracks when it came down to the shootout. Pekka Rinne stayed solid for his team, allowing Iiro Pakarinen to pick up the goal that gave his team their third win as they prepare to take on Kazakhstan tomorrow.