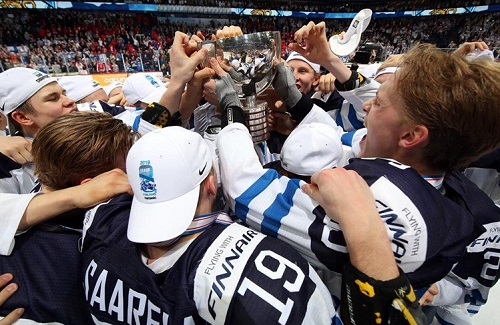 In what turned out to be a truly exciting finale to the 2016 World Junior Championship, Finland managed to avenge their prelim loss to Russia and take home their second gold medal in three years right in Helsinki of all places. The game came down the the wire, with Finland fighting hard against the Russians for their overtime win.
The game was very physical from the start, with both teams going at each other with all they had. Both teams seemed strong until Finnish goaltender Kaapo Kakhonen accidentally sent the puck over the glass, landing his team a penalty. The Finn's penalty kill wasn't quite strong enough to withstand Russia's attacks, with team captain Vladislav Kamenev beating Kakhonen on the powerplay for the game's first goal. Russia continued to dominate the first period, blocking shot after shot and shutting down Finland's lethal powerplay. Both teams continued fighting, seemingly evenly matched, throughout a scoreless second period as well.
It only took Finland 24 seconds into the third to develop a beautiful rush that saw Sebastian Aho send the puck to Patrik Laine, who sent the puck beautifully into the net to tie up the game, and tying him for first in the tournament for goals at 7. Finland almost scored again just a minute later but were denied just before Kakhonen was beat again, this time by Andrei Svetlakov, doing away with the tie game and reclaiming his team's lead. With only 10 minutes remaining to the buzzer, Sebastian Aho once again got his name on the scoresheet on a beautiful play that included the likes of Jesse Puljujarvi, Alexander Mikulovich, and Patrik Laine, tying the game at 2-2.
Finnish head coach Jukka Jalonen called his time out with just four minutes left in the third to strategize as his team went on the powerplay once again, this time with it paying off as Mikko Rantanen tipped in a shot from defenseman Vili Saarijarvi for a late 3-2 lead, Finland's first of the game. The home crowd was electric, but with only a minute left, Russia pulled their goalie and managed to use their man advantage to tie up the game and sending the gold medal matchup into overtime.
The game's final goal came as Aleksi Saarela sent the puck to Kasperi Kapenen in the Russian zone. Kapenen snuck through defenders and sent the puck home on a wrap around, sending the home fans into a frenzy as Finland were once again crowned World Junior Championship gold medalists.
Love Reading About Hockey?

Subscribe to keep up-to-date with the latest and most interesting hockey news!
| | |
| --- | --- |
| | We hate spam just as much as you |