In display not unlike the Winter War of 1939, Finland managed to defeat the Russians this morning, eliminating their chances of earning a medal in this year's Olympics.
The Russians came into this tournament carrying huge expectations of victory on their home soil, but will go away completely empty handed after a crushing defeat brought to them at the hands of the Finns. "In this tournament, you will have to win against big countries," Finland coach Erkka Westerlund said before the game. "Russia would be a big challenge for us. They play very good hockey and they have good set of players."
Finland got an early powerplay advantage when Ilya Kovalchuck went into the box early for an interference penalty, but Semyon Varlamov was able to keep the pucks out of the net and help his team kill off the penalty. Not too long after Kovalchuk returned to play, Finland's Mikael Granlund was sent to serve a sentence in the sin bin when he was called for holding. Kovalchuk took this chance to redeem himself for putting his team shorthanded by getting the puck past Tuukka Rask with the help of Pavel Datsyuk, putting Russia up with an early lead. They weren't able to hold the lead for very long, with Juhamatti Aaltonen evening up the score with the help of Petri Kontiola. The Finns managed to go into the intermission with a lead when 43 year-old captain and six time Olympian Teemu Selanne scored, assisted by Mikael Granlund and putting Finland up with a 2-1 lead.
The second period of play started off with a bang when Alexei Yemelin took a tripping penalty, which was served by Alexander Ovechkin. The Finns took their one man advantage and converted it into another goal, scored by Mikael Granlund and assisted by Teemu Selanne and Kimmo Timonen. The Russians got another powerplay later in the period when Aaltonen was sent away for slashing, but weren't able to beat the stone wall that was Tuukka Rask. The third period was similar, with both teams taking a penalty each, but the Finns defended their two goal lead well, with Rask blocking every shot sent his way until the clock winded down and the Finns were declared the winners.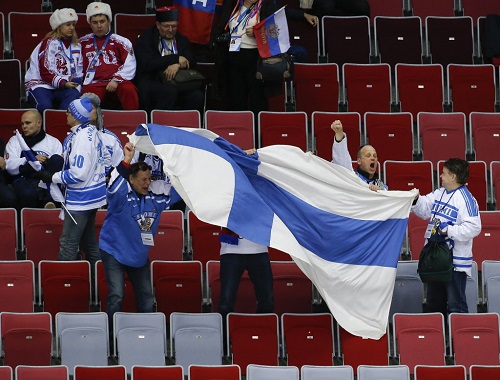 This comes as a crushing defeat for Russia, who entered this year's Winter Olympics with huge expectations of taking home the gold, but it looks like they won't go home with a medal at all this time around, not even making it to the semifinals. Despite initially losing a lot of players to injury, Finland managed to adjust and overcome, now heading into the semifinals to take on their longtime rivals, Sweden.
The semifinal game against Sweden will take place on Friday, February 21, 2014.
Love Reading About Hockey?

Subscribe to keep up-to-date with the latest and most interesting hockey news!
| | |
| --- | --- |
| | We hate spam just as much as you |