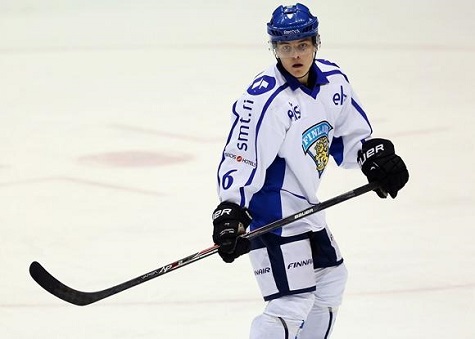 With two games of the World Junior Hockey Championship behind them, Team Finland's play hasn't been too shabby, leaving them with a 1-1 record thus far and looking to get another win against Russia this Monday.
The fighting Finns opened the tournament strong with a big 5-1 win against Norway in Malmö Arena, outshooting the Norwegians 48-29. The win was the first WJC victory for 18 year-old goaltender Juuse Saros, a Nashville Predators prospect. The win not only gave the team a boost in morale and confidence, but showed that the Finns aren't going to have a repeat of last year's 7th place ranking. Finland's goals were scored by Artturi Lekhonen, Saku Mäenalanen (2), Joni Nikko, and Ville Leskinen.
Unfortunately, the Finns weren't as fortunate when they faced off against their rivals and last year's second place team, Sweden. After a tough and well fought game, Sweden came out on top with a 4-2 lead, their second straight win. This game had everything a hockey fan could hope to see in a rivalry game, displaying fast pace and aggressive play throughout the match-up. Despite picking up a loss, Finland came out strong and showed their rivals that they would not be taken down so easily, putting on the offensive pressure and getting the early lead. The lead was short lived when Sweden scored later that period. Both Esa Lindell and Rasmus Ristolainen scored for Team Finland.
Overall, Finland has come out of the gate strong and looking to really make an improvement from their play last year, something they have already shown and will continue to do as the tournament goes on. The Finns have made a big effort in improving their offensive play, something that will be a major factor in moving them up in the rankings.