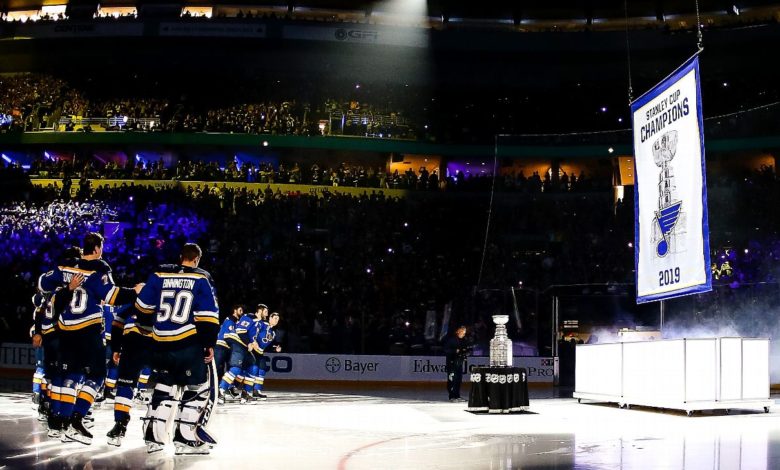 The first day of games (four to be exact) is over and there are a few ways that fans of each team could overreact. Next week I'll try and catch up with some other teams or stories that we are overreacting too as well, so if your team isn't listed here – don't worry – there's more to come.
Without further ado: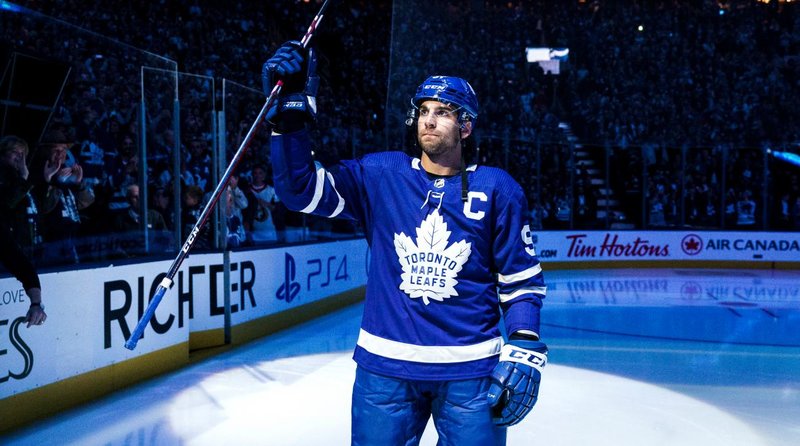 Toronto Maples Leafs vs. Ottawa Senators overreactions:
-Ilya Mikheyev is a a surefire, no doubt NHL-quality player after one game in the league. He's probably the best third liner in the world, if some Leafs writers are to be believed.
-It was great to see Scott Sabourin score his first NHL goal in his first NHL game. This is more of a reaction than overreaction, but whatever. Especially after Auston Matthews did this to him in the preseason: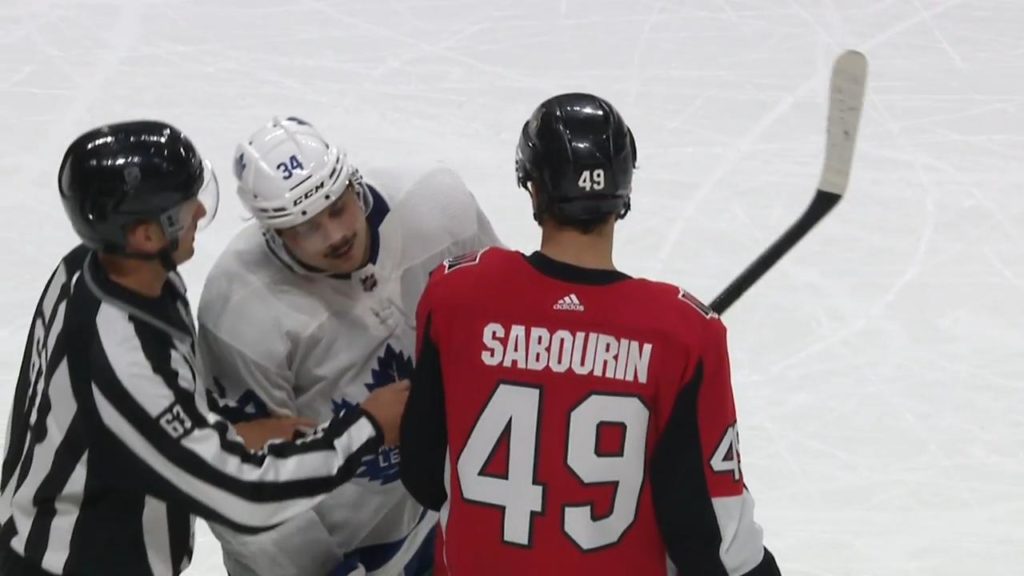 – Speaking of Matthews, he continued his hot streak with nine goals now in his first hour season openers, or about 2.25 per opener. Based on these meaningless stats we could predict about 40.5 goals in season openers if he had a full 18 season career.
– Brady Tkachuk looked like a beast out there, even if he blew a tire on a near breakaway that ended up going back the other way – into his net. There was a minute-long segment that Elliotte Friedman thought was necessary to show us exactly how Tkachuk will be a beast, based on NHL.com and the NHLPA listed him at two different weights and how "sources" told him his weight was higher than these two. Logical overreaction? Tkachuk is the next Cam Neely, or maybe even the next Matthew Tkachuk.
-Two goals in the first game also puts Matthews on pace for 164 goals this year. Ryan Whitney of Spittin Chiclets has now predicted that Matthews will win the Hart. Of course.
-Tyson Barrie is great offensively, terrible defensively. Can you win the Norris if you have a negative plus/minus on a potential 100 point team?
St. Louis Blue vs. Washington Capitals overreactions:
-The Blues lost in their first game, probably one of a lot of losses to start the season. Hell, they'll probably be last in January. Which is just where they want to be.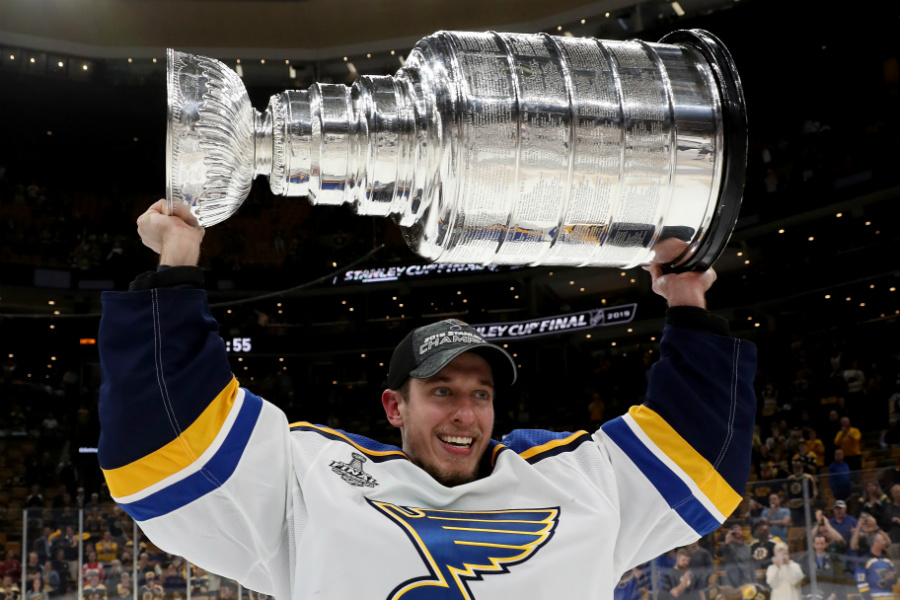 -All the talk has been on Alex Pietrangelo possibly being traded due to the lack of new contract headed into his UFA season. This is nonsense, but could be a topic if the Blues are last place in January again… we all know how terribly it turned out for the Blues last season.
-Alex Ovechkin scored another goal. He's definitely going to end up in the top 10 all-time by the end of the year, but could end up as high as 7th with another 50 goal campaign. Right now he's on pace for 82, so why not?
-Ryan O'Reilly got a couple of assists, putting him among the league leaders after one game. Unfortunately, regardless of how well he plays this season and postseason, he can't win the Conn Smythe two season in row because that's only reserved for Bernie Parent, Mario Lemieux, and Sidney Crosby. He doesn't even play in the Metropolitan division, which is apparently a prerequisite for back-to-back Smythe Trophies. Even Gretzky couldn't get the back-to-back Smythe honours.
-Justin Faulk got an assist, that means the Blues clearly won the trade over the Carolina Hurricanes, and he'll probably win a Norris, even though he's never been more than a throw-in all-star before.
Edmonton Oilers vs. Vancouver Canucks Overreactions:
-The Canucks are waiting until next Wednesday to announce that Bo Horvat will be their next captain. This is because they wanted to be behind the trend the Leafs starting by announcing it in game, despite everyone knowing who it will be.
-McDavid got a goal, which means he'll end up with 82 goals and 0 assists, if he keeps his current pace. Coincidentally, Freddy the Goat is on the same pace.
-Speaking of paces, Leon Draisaitl scored a goal and added two assists. That means he'll probably win the Hart and Art Ross with his 246 point pace. Totally maintainable.
-Quinn Hughes picked up an assist in his NHL debut. It will definitely be a Hughes-Mikheyev battle for the Calder Trophy if you base everything on today. If nothing else Quinn has the advantage in a different competition today however, taking a one point lead over his brother – and first overall pick – Jack through one game. Quinn has a sparkling point-per-game average while Jack hasn't even got a point as of Thursday morning.
Vegas Golden Knights vs San Jose Sharks Overreactions:
This was the rematch everyone was looking for after last year's reffing debacle and miraculous comeback led the Sharks past the Knights.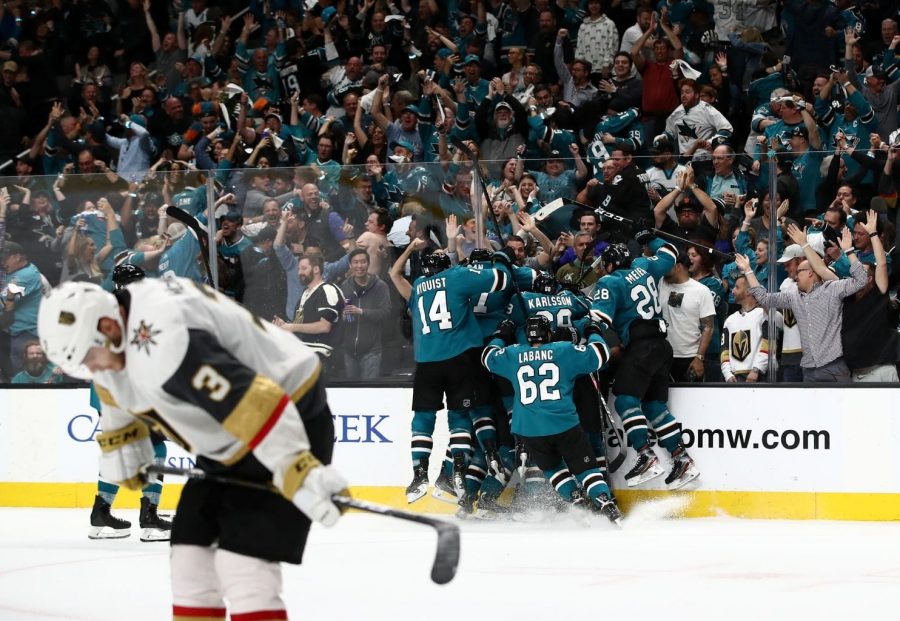 Which means of course it was a complete letdown, with Vegas running up the score 4-1 on the Sharks. The Sharks were also without Evander Kane due to suspension, Erik Karlsson for personal reasons, while also losing budding star Timo Meier and playoff hero Kevin Labanc to injuries in the game. This one game loss coupled with some (hopefully) short-term injuries clearly means the Sharks are bound to finish last in the league.
-The Knights, on the other hand, are now clear Stanley Cup favourites after going undefeated through one game.
-Brent Burns put one assist on the board, firmly closing the debate on Burns or Karlsson as San Jose's best defenceman.
-Reilly Smith potted two goals for the Knights, which means he's on pace to destroy his previous career-high on 25 goals with at least 164 goals, and currently on pace to beat that career-high in only 13 games.
-Another non-overreaction, but a Sharks' fan handed out these flyers at the game to troll Knights' fans: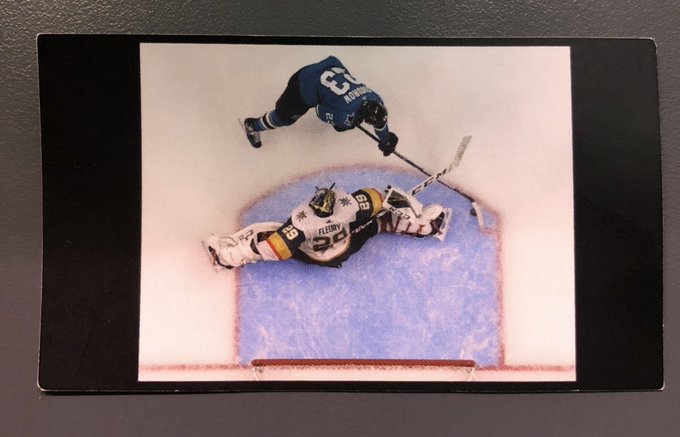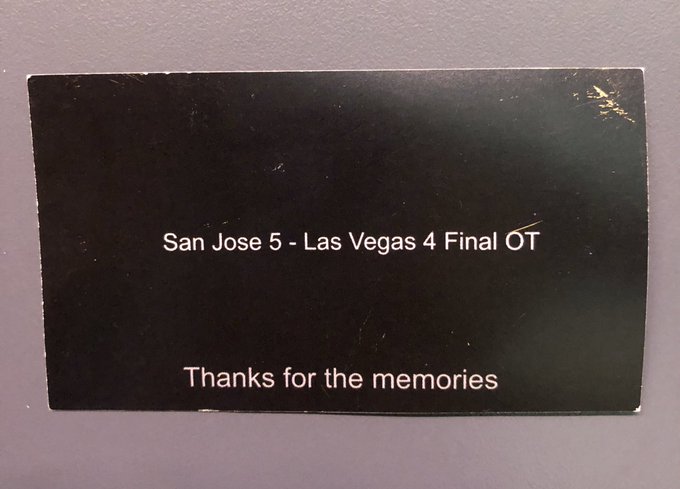 Anyways, that's it for the first day of overreactions. Clearly this isn't hard-hitting, in-depth journalism, but I hope you had a laugh – the entire point of this piece.
See you next week!