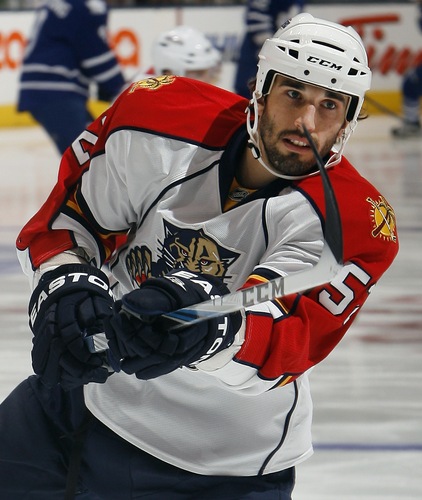 The Florida Panthers are a polarizing team. On the surface, it seems they took a large step forward last season by winning the Southeast Division, holding off the Washington Capitals in the season's final days. However, they garnered the third seed in the East despite a playoff-worst minus 24 goal differential, aided by a league-high 18 overtime losses. The Panthers bowed out to the eventual Eastern Conference Champion New Jersey Devils in seven games, losing the final two games in heartbreaking overtime losses.
Nonetheless, 2011-2012 was definitely a good year for a franchise that had not seen playoff action since 2000. Whether they have enough talent to make another playoff run in the shortened 2013 season has been hotly contested in hockey circles throughout the offseason (what little hockey talk there was) and they are an interesting young team to watch in 2013.
Here's my preview for the Panthers, including key additions, losses, and players for the upcoming season as well as a prediction for their final record and conference position. Let me know if you disagree or if I missed anything in the comments!
Key Additions: D Filip Kuba, C Peter Mueller, RW George Parros
Florida did not make many offseason moves to improve their roster, but with a strong top line of RW Kris Versteeg, LW Tomas Fleischmann and C Stephen Weiss, the Panthers may believe there were not many moves they needed to make. Their goal-tending duo of Jose Theodore and Scott Clemmensen was top-10 quality and they often did just enough to win hockey games.
Kuba will add a different element to the Panthers blue line as he replaces D Jason Garrison (which I'll get to in a minute). Teaming up with D Brian Campbell should give Florida a strong combination on their first line.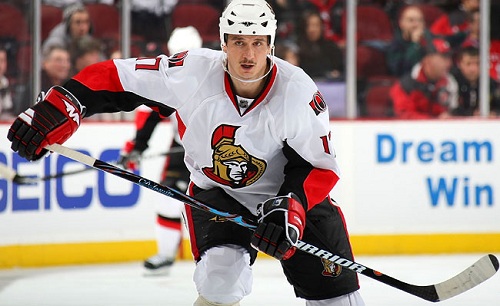 Mueller could add scoring on one of Florida's lower lines, with the potential for double-digit goals. Also, he is just 24 years old and is still developing as a player. Parros will not do much other than eating up penalty minutes and playing "enforcer."
Key Losses: D Jason Garrison, C John Madden, LW Wojtek Wolski, RW Mikael Samuelsson
The loss of Garrison is what hurts the Panthers the most. He had a career-high 16 goals and anchored the Florida defense last season, tallying a +6 plus/minus. His donning of a Vancouver Canucks sweater this year will leave some big shoes to fill for the Panthers. They hope Kuba will aid in that pursuit.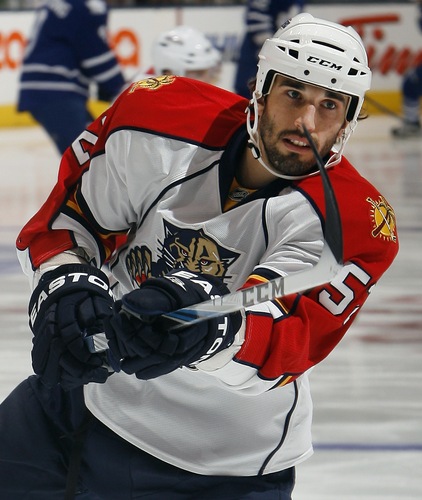 Samuelsson put up 13 goals in just 48 games for the Panthers since coming over to the team in a trade with the Canucks early in the season. He will be missed on the power play and as a reserve offensive player but he is replaceable.
Despite his namesake having claimed a Super Bowl in 1976, Madden will not be missed. Disregarding fans, of course, neither will Wolski. The Panthers can replace each of them within the organization.
Key Players: C Jonathan Huberdeau, D Filip Kuba, G Jose Theodore
Huberdeau, the third overall pick in the 2011 entry draft, has torn up the minor leagues and appears to be ready to join the big show with the Panthers in Sunrise this spring. He put up 105 points in 67 games in 2010-2011 before putting up 72 in 37 games last year. While he may have been ready to play in the big leagues last season, the Panthers decided to hold off just one more year.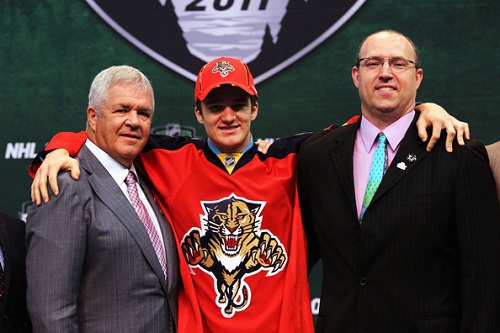 Huberdeau is certainly NHL-ready and should play an important factor as Florida needs another scorer to step up this season to make up for their inadequate goal differential that can come back to bite them sooner than later.
Theodore will be another key factor in turning around the contradictory goal differential. Not only did he over-achieve last season (kind of like the team) but there are now talks of the Panthers acquiring Roberto Luongo from the Canucks. I am talking about the Canucks much more than I thought I would in this preview.
Nonetheless, in order to quell the rumors and silence the critics, Theodore needs to step up his game in 2013.
Finally, as I mentioned before, Kuba needs to replace Garrison on the defensive line and could easily take a lot of flak if the Panthers play poorly. But it looks like the Panthers will go where their goal-tending takes them.
Prediction: 19-24-5, 43 points, 11th seed Eastern Conference, 4th place Southeast Division
Panthers Prediction
• 4 games against two divisional opponents (8)
o WAS 1-2-1 (3 points)
o CAR 2-2-0 (4 points)
• 5 games against two divisional opponents (10)
o TAM 3-2-0 (6 points)
o WIN 3-1-1 (7 points)
• 3 games against 10 conference rivals (30)
o NYR 0-3-0 (0 points)
o PIT 0-3-0 (0 points)
o PHI 1-2-0 (2 points)
o NJ 1-1-1 (3 points)
o NYI 1-1-1 (3 points)
o BOS 1-2-0 (2 points)
o OTT 2-1-0 (4 points)
o BUF 1-1-1 (3 points)
o TOR 2-1-0 (4 points)
o MON 1-2-0 (2 points)
• FINAL RECORD—19-24-5, 43 points
I am in the camp who believes this team massively over-achieved last season. You can only survive with a goal differential as terrible as theirs for so long before it comes back to bite you. In this shortened season following an offseason where they did not make many key moves that worked in their favor, I think the Panthers will struggle to play at the level they did last year and fall short of the playoffs.
I have them coming in behind the Capitals, Lightning and Hurricanes in that order in the Southeast, beating out the Jets. They are a house of cards built on sticks wrapped in tissue paper and I think they will not duplicate their success from last year. I mean, they cannot keep picking up cheap points by losing over 20 percent of their games in overtime again, right? Right?!
On a positive note, if Huberdeau does come out strong and begin to merit Calder Trophy chatter early on while Theodore continues to play way above his head and keep the Panthers in games, they could improve significantly over my prediction. The Southeast is undoubtedly going to be an exciting division to watch this season and the Panthers should make for an interesting team to look out for under second-year coach Kevin Dineen.