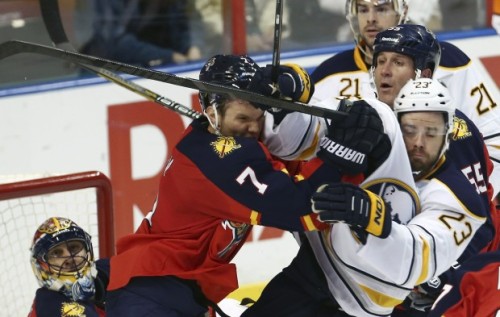 Preseason hockey is a strange animal-oddball rosters of grizzled veterans and wide-eyed greenhorns duke it out against opponents and themselves for the right to don an NHL sweater. Most, however, advise taking it with a grain of salt; that very same mix of talent spread across generations can skew a club's performances, with regular starters riding the pine and depth players afforded a rare chance to showcase their skills. All things considered-people purport-it cannot provide an accurate forecast for a team's regular season performance-no chemistry's been formed between skaters, the game's don't matter, blah blah blah *white noise*.
But what does it take for a fan-base to worry itself following a squad's exhibition game showings? Maybe a 0-3-2 record, with one game left to play before the real show hits the road? Or perhaps an offense averaging a skeletal 1.8 Goals Per Game? A defensive corps surrendering tallies to the tune of 3.6 Goals Per Game? The games don't count for a damn thing. I get it. But there's a sh!tstorm abrewin' in sunny South Florida, and I for one am all about heading for the hills/my doomsday prepper-esque underground bunker. You know, just to wait things out. Just in case. Those damned Socialist weathermen are wrong most of the time, anyhow.
Steeling themselves for a final preseason tilt against cross-state rivals Tampa Bay Lightning, the Florida Panthers find themselves in a typically unenviable position; winless through their first five games, the team appears to be having difficulty adjusting to new Head Coach Gerard Gallant's system. That much is to be expected-there's bound to be a learning curve, with players familiarizing themselves with their coach's expectations and their teammate's playing styles. The alarming thing to me, though, is the manner in and margin by which they've found themselves in the loss-column. Blowing two third period leads doesn't exactly inspire confidence, but I digress. With the boys also making preparations to ship out to West Point for hockey and team-building activities following Saturday's tussle, these next few days could prove vital in the squad's final preparations, presenting one last opportunity to truly gel into the system and get some ice-time with what-save for a handful of players-is likely to be the opening day roster. That spiel aside, let's break down the Cats' strengths and weaknesses by position, shall we?
NOTE: Well, I was intending to give some sort of advanced statistical black magic to illustrate some points, but now that somebody murdered extraskater.com, I may encounter issues with regards to that pursuit. So, yeah. Sad face.
Goaltending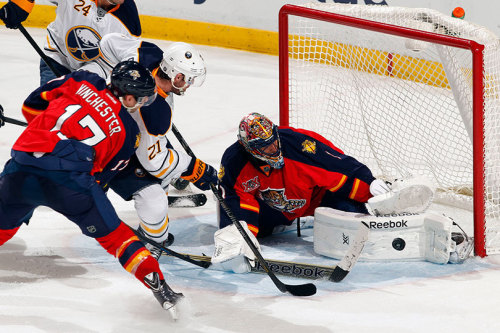 Arguably the Cats' greatest strength, the 2014-2015 Florida Panthers finally possess something that has eluded them since the last time they traded Roberto Luongo and-arguably-the Tomas Vokoun era-stability at the goaltender position. An elite netminder for the bulk of his career, Luongo's been a hallmark of consistency, turning in season Save Percentages over .910 in 13 of his 15 professional seasons. Hell, I'd take a 35 year-old Roberto Luongo over two-thirds of the league's starting goalies, and that's not coming from my psycho-homer biased opinion. Splitting time between an underperforming Vancouver Canucks side and an abysmal Panthers' team, he placed in the top-20 among all goaltenders-starters and otherwise-in Games Played, Wins, GAA, Saves, Save Percentage, and Shutouts. He was also serviceable in the shootout, turning aside 71.4% of attempts, comparable to Montreal Canadiens stalwart Carey Price. Backing Luongo up, former first-round draft choice Al Montoya has proven to be a serviceable backup capable of spot-duty as a starter. With a career .910 Save Percentage, he ought to be able to come in and give the team a chance to win, even without Luongo in net. He's also not Dan Ellis, so that works.
Defense
Here's where things start to get interesting; boasting a blend of experience and youth, the 2014-2015 blueline corps figures to be an improvement over it's preceding unit. New addition Willie Mitchell (two-time Stanley Cup champion Willie Mitchell, that is) brings his double-digit Corsi rating (11.45 On-Ice Corsi, worse than any Los Angeles King defenseman capped 30+ times not named Robyn Regehr but still better than twice of what Brian Campbell put out last year so I guess that ain't so bad) and "mentoring" to a defense that will most likely claim first-overall draft choice Aaron Ekblad as its own. Save for the addition of the aforementioned defensemen, however, the unit remains relatively unchanged, with a roster battle between system product Colby Robak and PTO d-man Shane O'Brien the only event that could change the terrain of the blueline. Improvement here really is contingent on the development of Erik Gudbranson and Dmitry Kulikov; everybody says it, but with good reason.
Although both skaters suffered through below average PDOs (a measurement of "puck luck" found by the summation of On-Ice Shooting Percentage and On-Ice Save Percentage) of 987 and 955 respectively, Kulikov's performance proved detrimental to the team; surrendering a full goal more per 60 minutes (3.47) with the Russian on the ice than with him off (2.47), the team appeared to suffer in the final question, even with the team pulling a higher Corsi with Kuli patrolling the blue-line. Gudbranson didn't fare much better-Guddy was the only defenseman that appeared in 50+ games that turned in a negative Relative Corsi rating (found by taking the difference between On and Off-Ice Corsi ratings; Gudbranson's rating stood at a -3.7), even though he benefited from the highest On-Ice Save Percentage (.914) of any Panthers' regular. It's been said before, and I will say it again-Gudbranson and Kulikov's performances will prove crucial if this unit hopes to take the next step towards ultimate recognition as an effective score-stopping force.
Forward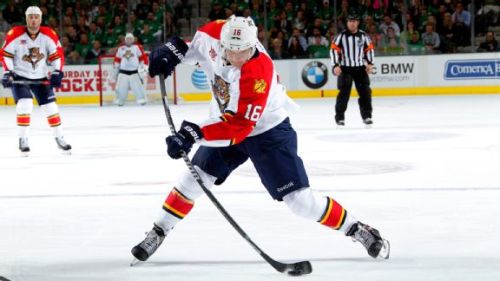 Rife with deficiencies, last season's forward group suffered much the same as the defense. With Jonathan Huberdeau's sophomore slump giving a face to a unit that finished 29th in average Goals Per Game, Dale Tallon's summer acquisitions hope to bring scoring depth to this beleaguered forward core. Former division rival Jussi Jokinen brings scoring touch and depth to a once shallow professional wing pool, and figures to slot into a first line role alongside fellow Finn and developing pivot Aleksander Barkov. Beyond that, moves were made to shore up the middle, with the signings of Dave Bolland, Shawn Thornton and Derek Mackenzie. Not what you'd call a glut of skill, what this trio of signings brings to the BB&T Center, at most, is depth in the bottom six. Bolland, yet to score 20 goals in a campaign, is the most talented of the bunch, and can feasibly succeed in a third-line role.
Thornton and Mackenzie, however, simply add grit and depth; neither of the two are particularly known for their scoring touch, and-on a team that was about as finesse in the offensive zone as my flirting game (hint-it's as smooth as sandpaper)-that's kind of a sticking point. Furthermore, while I'm all for calling up the youngin's and letting them skate roughshod around the rink, established veterans need to reappear in order for this unit to make significant progress. After vanishing for stretches of time, Tomas Fleischmann needs to show up again, giving Brad Boyes and Nick Bjugstad some help in shouldering the goal-scoring and playmaking loads of the team. Here's another opinion-Brandon Pirri, a former Chicago Blackhawk who came alive after switching allegiances, needs to be out on the ice more; maybe the purest offensive player on the squad, he's got the mitts to recreate last season's torrid (by Florida Panther standards) 14 points in 21 games.
In conclusion, here are three bullet points, boiling down a 1,200+ word article into its purest form and illustrating just what the Cats need to accomplish this season in order to finally claw back into hockey relevance:
Scoring depth. It's fairly obvious, but when your leading scorer lit the lamp 21 times last year, you're going to need people to back him up. While Flesichmann and Huberdeau desperately need bounce-back years, the key to success is strength down the middle. Can Bjugstad, Barkov, Bolland and (perhaps) Drew Shore rise to the occasion?
Defensive effort. We looked downright disinterested at times last campaign; with a youthful defense led by two veterans, the intensity level needs to rise on a shift-to-shift basis. That diffusion begins with Gudbranson and Kulikov-I ain't even talkin' 'bout Aaron Ekblad. Can these two translate experience and potential into tangible steps in improvement?
System effectiveness. While I didn't talk at length about it, this could-arguably-be the most crucial of all. A new head coach brings a new set of rules and a new set of potential issues should the squad not drink the Kool-Aid and buy into the system 100%. Will Gerard Gallant's system prove effective, both in the locker room and on the ice?
There's talent here. There really, really is. There's potential There's talk-for the first time in a long time-that this team could figure into the postseason picture deep into the dog days of the season, right down to the wire. Things just need to come together for the boys in red-and it certainly feels like we're due.
I'd like to thank all of you who read this through from the bottom of my heart; it really does mean a ton to me, this website, and the Florida Panthers community at large. Here's to a hell of a season, ladies and gents. And hey, even if it goes down in a ball of flames, at least we've got Connor McDavid to look forward to.
#FREEROCCO.