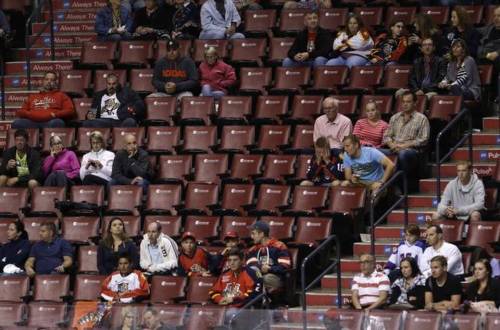 Before I begin, let us all take a moment of silence for the Florida Gators; they may have squeaked into a bowl game (Thank You Based God), but a 24-19 loss to Florida State is heartbreaking, no matter what designer brand of rose-colored glasses you view it through. Shouts out, Gerald Willis, for managing to be a bigger idiot than the jackasses (I'd like to say something else, but my mom reads these, and she'd smack me into next week if I spoke what was on my mind) that poured beer over my friends in the stands at Doak Campbell. Shouts out, LaTroy Pittman, Jr., for gaining more yardage on a one-off double penalty than the Gators offense did in the fourth quarter. Shouts out, Tevin Westbrook, for Fed-Exing Terrance Smith a 94-yard interception return of a Christmas present about a month too early (look like I get that Black Friday was yesterday and all but hold off on the season's greetings, man. Thanksgiving was about a week ago).  And finally, legit shouts out, Austin Hardin, for contributing 63% of our total points with your gifted, yet frustratingly inconsistent right leg.
*bows head*
Let's begin, now; recently having driven back home for the holidays, I was invited by Shayna-the dankest little lady in all the land-to join her for an evening at the BB&T Center. The occasion? A mid-week tilt pitting the Florida Panthers against Eric Staal and the reeling Carolina Hurricanes. Woefully unprepared for the night's chill, we piled into Heidi (my trusty steed of a 2011 Volkswagen Jetta) and blazed a path straight for Sunrise. Stopping along the way for some sub-par American dining (shouts out, Chili's), we finally reached our destination, parking at the nearby Sawgrass Mills shopping mall and power walking our arses to the arena with the greatest of speed. "Sh*t!" I exclaimed-retreating from the gusty night, we were unaware that the first period was well underway; one Cats' goal and ten minutes later, we made it to our seats, pleased that we hadn't missed much of the contest and prepared to revel with our fellow hometown supporters.
The only problem was, there were no fans to be found.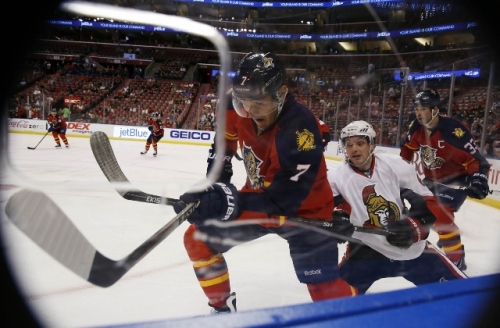 Save for a pocket of chill, slightly inebriated British tourists a row below us, the 20,737-seat BB&T Center was sparsely populated-39.2% full, to be exact. Total attendance for this particular game sat at a dismal 8,119, and no doubt contributed to the unbearably subdued atmosphere that hung from the rafters like a cheap suit. The game was not, by any stretch of the imagination, a well played game of hockey-both teams struggled mightily at times to generate any sort of meaningful offense-but that can't be offered up as an excuse.
You don't quite grasp a problem until it socks you in the face, leaving you with a mean shiner. Up until that night, I was oblivious to these reports of "record-low attendance figures", recognizing the validity of the statistics but never truly grasping the severity of the situation. Having experienced it first-hand, I staggered out of that stadium, my metaphoric jaw cracked by reality's wicked right.
The Florida Panthers are in dire straights, and in my mind, there's only one way to right the ship-the squad has to take that next step, has to consistently win games. And dealing for a current NHL star would only buoy those efforts.
It seems obvious-that's because it pretty much is. However, let me offer an explanation; South Florida, in general, is-in a nutshell-viewed as the armpit of the sporting world, at least when it comes to the clientele that the region's athletic teams are tasked with entertaining. Considered some of the most fair-weather fans in the wide world of sport, the good people of South Beach and its' surrounds are infamous for coming and going with the wind, latching on to whatever team is riding a wave of success. Often portrayed as the face of a fickle sports scene, supporters of the NBA's Miami Heat draw the vast majority of the nation's ire. Seemingly crawling out of the woodwork when LeBron James made his "decision", the nadir of the fanbase's public image came a mere two years ago, during game six of the NBA Finals; caught on camera leaving the stadium when all appeared lost, the United States laughed when legions of "loyal fans" attempted to re-enter the American Airlines Arena following Ray Allen's dead-heat heroics.
It was all rather amusing. Also, rather embarrassing. However, it doesn't just stop there; looking over average attendance records offered by ESPN.com, there were sizable spikes in attendance-to the tune of a twenty position leap from '04 to '05 and a ten spot jump from '10 to '11-coinciding with the arrivals of Shaquille O'Neal and LeBron James in South Beach. Attendance, though, sustained only as long as these stars burned bright; following the Big Aristotle's departure, average attendance dropped by over 1,000 fans a game, plummeting the team from eighth to 15th in league standings.
Oh, lest we forget about the Florida Miami Marlins, the red-headed step-cousin of the four major North American Sports teams to call Miami home. Aside from having Satan's incompetent art-dealing cousin as majority owner (God, if you can hear me, please let Jeffrey Loria sell the team and move to a remote island nation somewhere in the Pacific), the attendance woes of the Heat are amplified ten-fold when it comes to the Fish. With seasonal attendance figures below the National League average in 19 of the 22 complete seasons the ball club has competed in, the team's been doomed by poor attendance and a laughingstock of an owner who's spent more money on a hideous piece of gyrating "art" marring the center-field terrace than the talent populating the roster. The Panthers may catch a lot of flak, but at least we're not owned by that…that…monster. He hates puppies. It's a proven fact.
Point is, winning is king in this beach-bound realm, with stardom it's heir apparent; attendance follows success, until you've strung together enough competitive showings to build the foundation of a loyal fanbase. I understand that nothing is ever as easy as it sounds, but my prescription? With the information that's come to light, it begins with the star, that high-profile figure who puts asses in seats based on name alone. The team is stacked with skilled youth; taking this surplus into account, maybe Dale Tallon should swing a deal, shelling out any combination (within reason) of veterans, prospects and draft picks for a top-flight, bonafide sniper. The highest single season average attendance that the Cats have ever achieved was during the 1998-1999 campaign; you know who showed up in sunny South Florida? Pavel f*cking Bure. Yep, the Russian Rocket, current Hall Of Famer, all-around offensive sparkplug Pavel Bure. All that glitters may not be gold, but I'd be willing to hedge my bets on a seasonal gold mine.
I truly believe that this team is a top-line scorer away from making noise in the Eastern Conference; one point behind the Toronto Maple Leafs for the final wild-card spot with a game in hand, the squad has made strides in team defense-tied with Pittsburgh for the fewest Goals Allowed in the East-while lagging in the goal-scoring department. Bright spots dot the lineup, but the team lacks a truly dangerous forward, a skater that opposing defenses gameplan to stop. The pieces are in place, they just need a little push in the right direction-to alter a popular maxim, the puck is in our zone.
Love Reading About Hockey?

Subscribe to keep up-to-date with the latest and most interesting hockey news!
| | |
| --- | --- |
| | We hate spam just as much as you |