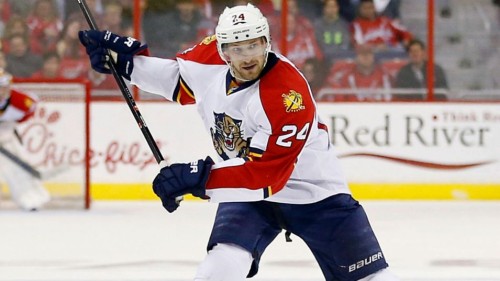 HARDY HAR HAR, I'm late to the party again. Just like I am to everything else. I blame college.
On the eve of this past Wednesday's opening of free agency, the Florida Panthers made a bit of a splash; having cleared waivers, veteran forward Brad Boyes has been bought out of the last year of his contract, freeing up approximately $1.7 Million in cap space and opening a spot on the big club's roster. Fresh for the taking, it's assumed within Panthers-related press that the team will look to promote from within, handing said opportunity to Rocco Grimaldi, Quinton Howden, the newly-drafted Lawson Crouse or any one of a talented group of young forwards seasoning their game at the AHL level.
Taken from Litter Box Cats' article on the same subject, here are Boyes' HERO (Horizontal Evaluative Rankings Optic, something that I can only assume roughly translates to "bar graph") Charts. Using what I can only guess is sorcery, the kind folks over at Own The Puck have found a way to quantify a player's contributions, scaling them in relation to his peers and ranking them on a first-to-fourth line basis; if we're to place any credence in this metric, then hot steaming weenies, we just bought out a solid second-line forward.
I can see both sides of the argument-one the one hand, Dale Tallon and the Cats undeniably have a slew of talented forwards licking their chops and rearing up for their first season in the pros. On the other, GM Tallon just cut what appears to be a half-point-per-game producing second-liner who-when compared to his fairly modest $2.625 Million salary-brought the club some respectable bang for their buck. What's my opinion on all of this? If you must know, it's straddling a line between "Oh man, that's kind of a bummer for Boyes" and "#ROCCOFORPRESIDENT2K16".
In other news, I probably shouldn't be typing this at my law internship right now. Man, I am NOT ready for the real world.  
Love Reading About Hockey?

Subscribe to keep up-to-date with the latest and most interesting hockey news!
| | |
| --- | --- |
| | We hate spam just as much as you |