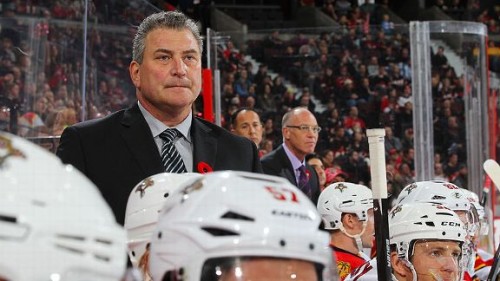 As the NHL wades knee-deep through the trenches that are postseason hockey, an interesting tidbit of news came through the wire on Tuesday afternoon; coming from the Eastern front (some country club in Sunrise), the Florida Panthers have parted ways with interim head coach Peter Horachek.
Horachek, a former assistant coach of the Nashville Predators, was brought aboard by former Assistant General Manager Mike Santos, a former executive with the Preds (there's a bit of a trend here, and I ain't talking about the Nashville connection). Previously the bench boss for the Panthers' AHL affiliate, the San Antonio Rampage, Horachek was promoted to the big club following a dismal 3-9-4 start and the subsequent sacking of incumbent Kevin Dineen. In all fairness, it appeared as though the move payed modest dividends; the well-traveled minor-league coach steered the Cats to an 18-15-3 record (that's like, actually .500) in his first 36 games manning the helm. Lo and behold, the Panthers happened, and the squad dropped harder than Adam Silver's metaphoric hammer. Finishing 8-21-1 over the stretch run, the Cats limped across the finish-line 29th, younger yet bloodied and worse-for-wear.
Addressing media following the decision, General Manager Dale Tallon expressed his desire to recruit a manager possessive of an NHL track record; coupled with owner Vinnie Viola's apparent commitment to spend to the cap in order to build a winner, Tallon hopes the Panthers' stable of talented young prospects will entice proven talent to the BB&T Center. Former Philadelphia Flyers head coach Peter Laviolette occupies a spot on Tallon's shortlist, with speculation swirling that the recently fired Barry Trotz may receive a call from the Panthers' architect.
For all I know, a cymbal-banging monkey toy could be a dark horse candidate.