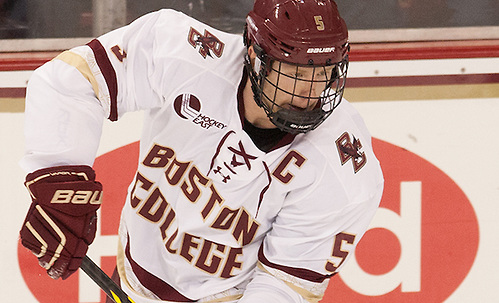 So, wow…I've been gone for quite some time, haven't I? Umm…how have you been?
If your answer to that question revolves somewhere in the orbit of "oh, I'm doing peachy, just signed a contract that pays me more yearly than what your 20-plus years of existence have shown for, you?" then A) congrats, B) f**k off, and C) I apologize for B, can you pay for my upcoming study abroad in Norway pretty pretty pls?
Odds are, Michael Matheson is a very, very happy dude right about now; the 23rd-overall pick in the 2012 NHL Entry Draft, the smooth-skating native of Pointe-Claire, Quebec reached an agreement Wednesday afternoon with his parent club, the Florida Panthers, on an entry-level contract. The deal-details of which have yet to surface-brings about the close of an impressive amateur career, with a new chapter waiting to be penned upon his rendezvous with the San Antonio Rampage on an amateur try-out.
Coming through the Midget ranks in Quebec, Matheson plied his trade with the Lac Saint-Louis Lions AAA squad, making a name for himself as a stand-out offensive defenseman before making the transition to the USHL Major Junior league. Continuing his torrid production, the young rearguard spearheaded the offensive assault from the rear, leading the defensive corps in scoring. His development has since continued to skyrocket; following his selection by the Cats, the 6'2″, 180-pounder committed to Hockey East's Boston College, where he led all Eagle defensemen in scoring. Again. Seriously, the kid (he's 21 I'm 20 who caaaaaaaaares) scores more than I do in EA's NHL Be-A-Pro (and I'm downright ENVIOUS of that fact).
Matheson flies into the pros brimming with potential; his sophomore campaign was another offensive gem, the fruits of which included a Frozen Four berth and a "C" on his jersey for the 2014-2015 season. Regarded as an upper echelon offensive defenseman, Hockey's Future notes that-while he has made strides in his defensive positioning-his play in his own zone could use some polishing. Honestly, I'm excited as sh*t to see this dude play in Sunrise, and I've got a hunch that he'll bust through that logjam of young talent on the back-end sooner than later. He also once told me that Android phones suck. To my face. I had a Galaxy S3. Keyword there is "had".
Oh, and since I'm horrible at my job, here's a list of other important stuff that I completely forgot to write about:
Kyle Rau, former Minnesota Mr. Hockey and captain of the University of Minnesota Golden Gophers, signed an ELC on Sunday. The point-per-game producer will report to the farm, joining the Rampage on an amateur try-out much like Matheson after him.
Speaking of Golden Gophers, veritable tree-of-a-man Nick is done for the year, having undergone a successful back procedure on Friday, March 27th. You know what else needs to get stitched up? Our playoff hopes, because they died with whatever died in his lumbar region.
I may have inadvertently jinxed the Panthers during their crucial tilt against the Boston Bruins yesterday; to whoever cares (coughcoughKLAHRcough) I'm deeply, wholly regretful of my actions. Looks like it's seppuku for me.
But really though if anyone wants to pay for my study abroad I'll sing for you or some sh*t I dunno.
Love Reading About Hockey?

Subscribe to keep up-to-date with the latest and most interesting hockey news!
| | |
| --- | --- |
| | We hate spam just as much as you |