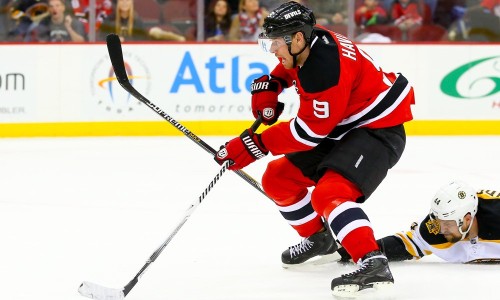 Moves on moves on moves on MOVES.
A day after announcing the signing of fan favorite David Booth to a Professional Tryout Contract (PTO), the Florida Panthers are at it again, proclaiming the invitation of 34-year old left winger Martin Havlat to training camp.
The 26th overall pick of the 1999 NHL Entry Draft, Havlat carved his place in the NHL while skating for the Ottawa Senators, producing at a .78 point-per-game clip and finishing as a Calder Memorial Trophy finalist during his tenure with the Sens. Following a contract dispute, the forward was shipped to the Madhouse on Madison, proceeding to put up career-best production during his three year stint with the Chicago Blackhawks. In spite of being named team MVP for the 2008-09 campaign, contract negotiations soured yet again, resulting in then-Hawks GM Dale Tallon's refusal to tender the talented skater anything more than a one-year deal. Salty, Havlat jumped ship, putting pen to paper on a six-year, $30 million contract with the Minnesota Wild.
Two solid seasons passed before Havlat was once again dealt, this time to the San Jose Sharks, kicking off a tumultuous period in Havlat's career. Marred by injury, the once-effective winger failed to play more than 48 games with the club, seeing his PPG drop from a career average of 0.82 to a middling 0.53 with the Sharks. Failing to live up to expectations, Havlat was bought-out of his contract, becoming the first player in the history of the Sharks franchise to be cut from his deal. Days later, Havlat latched on with the New Jersey Devils, scoring 14 points off of five goals through a 40-game 2014-15 campaign.
A shell of his former self, the days of "Mach 9" seem to be long gone; hampered by a slew of ailments ranging from a torn hamstring to whatever necessitated a bilateral pelvic floor reconstruction, the Cats look to be bidding on damaged goods. His pedigree remains, though, and given the Panthers' willingness to dole out PTOs to fill roster spots, promote competition and otherwise strengthen the squad, I wouldn't be too surprised if Dale Tallon at least signs him to a two-way deal.
An interesting subplot presents itself, however. Could Havlat strike up a chemistry with the ageless Jaromir Jagr, fellow Czech and former teammate on both the Devils and the bronze medal-winning 2011 Czech World Championship hockey team? Head coach Gerard Gallant may be unwilling to break up the scoring line of Jagr, Jonathan Huberdeau and Aleksander Barkov that was deathly efficient down the stretch last season, but training camp is a time for experimentation. At this point, though, I'd view a potential Havlat signing as a depth move, one that brings in a veteran skater that can fill in when need be, while mentoring prospects down on the farm.
Honestly, I just aspire to be one big hot take. I've got a ways to go, but I'm gunnin' for ya spot, Bayless. Maybe I should stop caring so much…