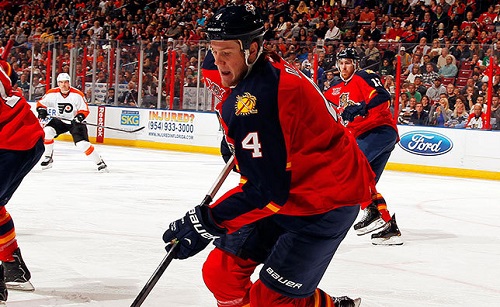 It's over. The World Cup is over. No more national fascination with football…no more of this chick… 'Tis a sad, sad time.
In an effort to attenuate worldwide sorrow, Florida Panthers General Manager Dale Tallon reached an agreement in principle on a two-year with Restricted Free Agent Dylan Olsen, 23-year old rearguard and former Chicago Blackhawks first-rounder. A veteran of 72 NHL contests, Florida has been his professional home for his last 44 games; notching twelve points off of three goals, Olsen's South Florida tenure has seen the blueliner set a career high in points, turn in his first multi-point performance and notch a five-game point streak. Skating out of Calgary, Alberta via Salt Lake City, Utah, the former Canadian World Junior defenseman reunites with the recently signed Erik Gudbranson, a former teammate of Olsen's on Team Canada. The two formed a dynamic duo on the BB&T Center ice, with Gudbranson benefiting from his erstwhile partner in the form of five points off of two tallies in eight games.
The move-along with today's earlier signings of 23-year old homegrown forward Garrett Wilson and 22-year old Edmonton Oilers pick Ryan Martindale-leaves three RFAs left for Dale Tallon to lock up; electing arbitration, former Blackhawk Jimmy Hayes is the only of the trio to exercise the option. Remaining unsigned, Dmitry Kulikov and Brandon Pirri round out the triad; both skaters played key roles in last season's squad, and-following yet another season of development-figure to reprise their part on this year's edition of the Florida Panthers.
All is grey. All is blank. There is a soccer ball-sized hole in my life, one that will not be filled for another four years; good thing there are 82 hockey games in a season.