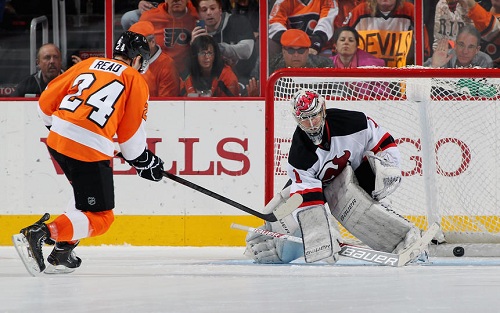 Heading in to Friday's game at the Wells Fargo Center, the Philadelphia Flyers had never beaten the New Jersey Devils in a shootout. The Flyers were looking to make history on Friday night when their all-important game against the Devils was still tied at one after overtime. Flyers forwards Matt Read and Claude Giroux would both score in the skills competition to propel the home team to a vital victory. Pesky forward Max Talbot scored the Flyers lone goal in regulation and goaltender Ilya Bryzgalov made 27 saves to advance the team to 13-15-1 on the season.
David Clarkson broke out of a scoring slump to score the Devil's only goal in regulation. Ilya Kovalckuk scored in the shootout for the visitors but Bryz was able to turn away Clarkson and Patrik Elias to ensure victory. It was the first time the Flyers had won this season when tied after two periods and their first shootout win since March 10, 2012.
The struggling Flyers desperately needed this win after falling 5-2 to the Devils on Wednesday. The Broad Street Bullies now currently sit in 11th place in the Eastern Conference where they are three points out of a playoff spot.
The home team got off to a much more energetic start on Friday and it transpired to them tallying the first goal of the game. Maxime Talbot would end up finishing off a three on two play with Simon Gagne and Matt Read. The youngster Read would feed Gagne in front of the net who would then show tremendous patience as he dragged Hedberg and the Devils defenseman over before feeding a wide open Talbot. Talbot would put it into the open net for his third goal of the year. Hedberg got bumped by two of his own teammates and couldn't get over to stop the Talbot shot. The goal came fifteen minutes into the first period.
David Clarkson would even the score six minutes into the second frame when he redirected a Bryce Salvador point shot by Bryzgalov. It was Clarkson's eleventh of the year but only his second in sixteen games. The goal scoring would dissipate for both teams until the shootout.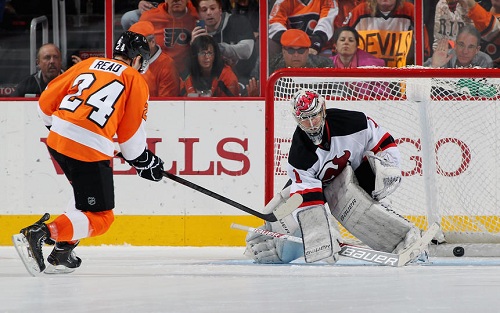 Ilya Bryzgalov was phenomenal in net for the men in orange as he practically stole the extra point for his team .He came up with some humongous saves in overtime to keep the Flyers alive. He robbed Flyer killer Patrik Elias twice with point blank saves on marvelous opportunities. He also sprawled onto his back to stop Marek Zidlicky. Already with the goalie down and out, all Zidlicky had to do was lift the puck over the goaltender but Bryz spread out like a snow angel and absorbed the puck into his body. The Flyers would take the game in the shootout and end up winning 2-1.
Game Notes:
Devils center Andrei Loktionov left the game in the first period with an undisclosed injury and didn't return
The Flyers penalty kill denied all five New Jersey chances including a 28-second 4-on-3 and a 1:32 5-on-3 during the middle frame
The Flyers next home game isn't until March 26
After missing Wednesday's game with the flu, defenseman Luke Schenn returned to the line-up for the Flyers where he logged 22:37 of ice time and delivered nine hits