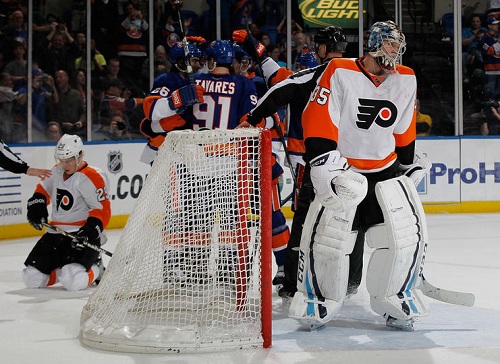 Steven Mason made his first start as a Philadelphia Flyer but he was still no solution to the team's offensive woes. Jakub Voracek was the lone goal scorer for the Flyers as they dropped a 4-1 decision to the surging New York Islanders Tuesday evening.
Mason made 28 saves in his first start but was beat three times by the New York Islanders. The home team got tallies from Matt Moulson, Michael Grabner, and John Tavares to help them to a 7-1-1 record in their past nine games. Casey Cizikas added an empty netter late.
The Flyers are currently five points out of a playoff spot in the Eastern Conference with 37 points while the Isles sit in 7th with 44 points. Considering the Flyers only have nine games remaining, it is likely the club will miss the playoffs for the first time in six years. The Islanders on the other hand, are on pace to make the playoffs for the first time since 2007.
Voracek opened the scoring 6:28 in when he tucked one by Nabokov on a breakaway. It was his team leading 17th goal of the year and came off a terrific stretch pass from line-mate Claude Giroux.
Matt Moulson responded for the Islanders less than ten minutes later though when he buried one by Mason in low off a beautiful feed from Brad Boyes. Moulson's 13th of the year tied the game at one.
The speedster Grabner gave the Islanders the lead in the second frame when he sniped one by Mason in the high slot. It was the youngster's 13 goal on the year and it sent the building into hysteria.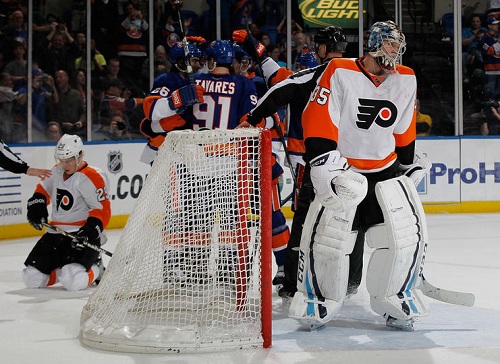 The Islanders leading scorer John Tavares put the game out of reach late in the third period. After Tavares was stopped by Mason on a partial breakaway, a sliding Erik Gustafsson accidently knocked the puck into his own net. The goal came on an odd man rush for the Islanders. The Flyers had overloaded in the offensive zone with under two minutes to play as they were desperate for the equalizer. This eventually allowed Moulson and Tavares to break in two on one where the puck would end up going off the backchecking Flyer's defenseman and in.
Game Notes:
The Islanders snapped a seven-game losing streak to the Flyers at the Coliseum
Jakub Voracek is currently the leading scorer on Philadelphia with 39 points. Captain Claude Giroux is only one point behind, however, with 38 points
The Flyers announced Monday they extended Steve Mason with a one-year deal next season worth $1.5 million
Scott Hartnell was put back on the top line Tuesday where he failed to make an impact. After 37 goals last season, his four tallies this season are a massive letdown to say the least