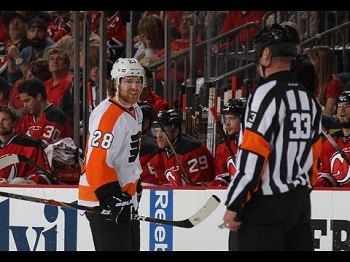 The Philadelphia Flyers learned yesterday that they will be without their star forward, Claude Giroux, for their possible elimination Game 5 tonight. The leader in goals, assists, and points in the playoffs has also been the emotional leader of his team. Without him, the Flyers will certainly have a more difficult task on their hands. However, they have the talent and the star power to pull out a win.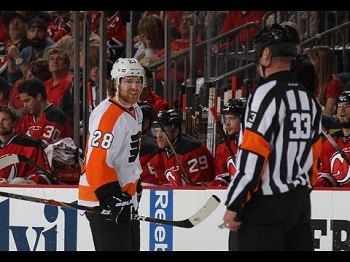 The easy, and most obvious, solution is to say that the veterans need to step up. Although it is the most obvious, it is the truest. Players like Jagr and Hartnell will really need to bring their A-game tonight. While they are still a little young to be called veterans, VanRiemsdyk and Simmonds will also have to start producing. JVR has been inconsistent since his comeback, which is the story of his short career. He needs to get back to the way he played in last year's playoffs.
Defense will have to be another strong suit in tonight's game. The top four have been playing well, but the Lilja/Gustafsson duo needs some serious help. Either they need to be split up, or a change needs to be made. I prayed last night that Meszaros would be able to make his way back into the lineup tonight. We'll see if my first prayer in about twenty years will come true. If it doesn't, I would really like to see the Flyers dress their young defenseman, Brandon Manning, over Andreas Lilja. He's young and inexperienced, but he couldn't do any worse. I hate to pick on Lilja, but…come on.
The final key to this game is the main key to any and every playoff game: goaltending. Bryz will need to stand on his head tonight. He has been much better in Round 2, but he'll need to be even better tonight. The Devils will throw everything at him, as they have been all series. Without a playmaker like Giroux in the lineup, each goal the Devils get will be harder to counter by the Flyers.
New Jersey knows that this is their best chance to knock out Philadelphia. Not only because they'll be missing Giroux, but because there could be a huge momentum swing in this series with a Philadelphia win, and an even bigger momentum swing with Giroux's return in Game 6. They'll be hoping to avoid either of those circumstances.
On a Side Note: I need to vent. As a Flyers fan, it is very easy for me to be biased against Shanahan's decision to suspend Giroux; and I am. I hate to see him sit in such an important game, but I'm not mad he has been suspended. I'm mad at two things: 1) The lack of consistency in Shanahan's punishments and 2) the explanation given in his video on NHL.com. I won't go into detail, because steam will start to pour from my ears, but take a look at some of the recent lengths of suspensions compared to the severity of the play, and you'll find horrific inconsistencies. And his video description isn't accurate. Giroux was initially yelling at the referee for missing a blatant Delay of Game penalty when Brodeur played the puck outside the trapezoid. He wasn't complaining about being hit. Okay. I'm done.