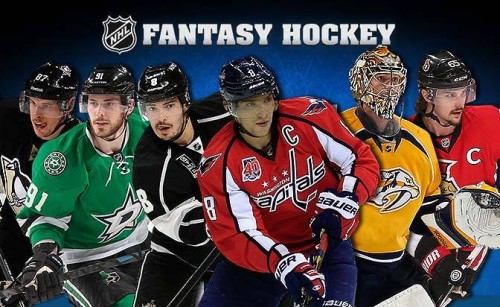 It's everyone's favourite time of the year, fantasy hockey time. Mock drafts have just opened on Yahoo! and while fantasy junkies are doing their research for their football pools, it's time to get an early start on researching for your hockey draft! So hold on to your mouses, it's fantasy hockey time!
As this is my first fantasy article for this website, let's lay some ground rules. I'll be writing for the basis of a 12 team league. Some of my posts will be about a single season league, while others will be tips for dominating your keeper league for the next decade. From here on out, my advice will be for leagues with the following stats: PLAYER – G, A, +/-, PIM, PPP, and GWG; GOALIES – W, GAA, SV%, SO. If you want advice on other categories, like Hits, Block and Shots on Goals, tweet me (@Rstarr_18) and I'll shoot some sure fire strategies your way.
Mock Drafts
Enough on the guidelines, here's the fun stuff, my mock drafts. Never undervalue the importance of a mock draft. They give you a chance to see where players go, names you forgot, or even the layout of your online draft app. There's nothing worse than being unprepared and having to fumble around to find the queue button, or where to find player rankings when you haven't seen the layout for a year, especially if it's changed. There's nothing worse than being underprepared for your live draft.
My general strategy for mock drafts are to go through the process at least five times. For the first three, try to pick the team you want and target several players you'd like to draft in each round. Now that you have your desired players, you want to see when they'll be picked by everyone else. For the next two mock drafts, don't pick your desired players. Keep note on when and where they go. Now you'll have a list of your targeted players and a sense of where you can expect them to go. I've completed three snake mock drafts so far and here are my results:
Team 1 (4th overall) Team 2 (6th overall) Team 3 (7th overall)
1 Evgeni Malkin Carey Price Carey Price
2 Tuukka Rask Ryan Getzlaf Jonathan Quick
3 Jaroslav Halak Marc-Andre Fleury Ryan Johansen
4 Tyler Johnson Tyler Johnson Tyler Johnson
5 Gabriel Landeskog Gabriel Landeskog David Backes
6 Mark Giordano Daniel Sedin Andrew Ladd
7 Matt Duchene Tomas Tatar Matt Duchene
8 Nick Foligno T.J. Oshie Jiri Hudler
9 Patric Hornqvist Sean Monahan Gustav Nyquist
10 Jason Pominville Martin Jones Martin Jones
11 Martin Jones Johnny Boychuk Brent Seabrook
12 Johnny Boychuk Erik Johnson Olli Maatta
13 Anton Stralman Anton Stralman Erik Johnson
14 Erik Johnson Ryan Callahan Anton Stralman
15 Brayden Schenn Zdeno Chara Mats Zuccarello
16 Carl Hagelin Reilly Smith David Pastrnak
Since this could be a little tough to follow, here's what each one of my teams would look like:
Team 1 Team 2 Team 3
C – Evgeni Malkin C – Ryan Getzlaf C – Ryan Johansen
C – Tyler Johnson C – Tyler Johnson C – Tyler Johnson
LW – Gabriel Landeskog LW – Gabriel Landeskog LW – Andrew Ladd
LW – Nick Foligno LW – Daniel Sedin LW – Matt Duchene
RW – Patric Hornqvist RW – Tomas Tatar RW – David Backes
RW – Jason Pominville RW – T.J. Oshie RW – Jiri Hudler
D – Mark Giordano D – Johnny Boychuk D – Brent Seabrook
D – Johnny Boychuk D – Erik Johnson D – Olli Maatta
D – Erik Johnson D – Anton Stralman D – Erik Johnson
D – Anton Stralman D – Zdeno Chara D – Anton Stralman
G – Tuukka Rask G – Carey Price G – Carey Price
G – Jaroslav Halak G – Marc-Andre Fleury G – Jonathan Quick
BN – Martin Jones(G) Martin Jones (G) Martin Jones (G)
BN – Matt Duchene (C, LW) Sean Monahan (C) Gustav Nyquist (LW, C, RW)
BN – Brayden Schenn (LW, C) Ryan Callahan (RW) Mats Zuccarello (LW)
BN – Carl Hagelin (LW) Reilly Smith (LW) David Pastrnak (RW)
And there you have it, my primary targeted players. As you can see, there are a few patterns to some of the players I selected. Tyler Johnson, Erik Johnson, Anton Stralman, and Martin Jones make all three of my teams. Carey Price, Gabriel Landeskog, Matt Duchene, and Johnny Boychuk will suit up for two of my squads. Does that mean I think these players are going to be the 'be all and end all' of the NHL this season? Not necessarily. But I do think that each of these players are the best available at their respective draft ranking, and fit best on my team. I'll tell all of you a little bit about my draft strategy. I don't want to brag, but I won two of my pools last year and finished third in another, just saying.
Goalies
Goalies. Can't live with them, can't live without them. There are about four or five elite goaltenders in the league. Price, Quick, Rinne, Lundqvist, and Rask. This is followed by your second tier goalies: Fleury, Bishop, Holtby, and Halak. The rest are pretty good, but playing your season with anyone not named above as your G1, you'll be in tough to win your pool. I always like to draft goalies early. As you can see, there are really only about nine that I would trust as my G1. In the first three rounds, I typically go 1. Goalie, 2. Player, 3. Goalie or 1. Goalie, 2. Goalie, 3. Player.
Some people might say, "Oh, well, you can always pick a hot goalie up and ride him." While this might be true *sometimes*, tell me how many times this happened last year? Off the top of my head: Dubnyk, Hammond, Talbot? Listen, you can make up player stats. Players coming out of nowhere are a lot more common than goalies coming out of nowhere. Make sure you grab the top tier goalies early. It's very tough to try to trade for one later (I had to give up Benn, Schneider, and a 5th round pick in my keeper league for Rask. Criticize me all you want, scroll up two paragraphs.)
Finally getting out of the shadow of Quick, I grabbed Martin Jones in the 10th or 11th round for all of my teams. He's going to have a strong year. The Sharks paid handsomely for his services. I'll write about him further in my upcoming articles, but he should net you some solid stats, with a fair share of wins. Grab him when you can as a G3. Late round goalie picks like Gibson, Allen, Raanta, could all steal a fair share of starts. Try to grab them in rounds 14-17 as a possible G3. They're all just an injury away from becoming league stars.
Your Starting Lineup
You know what stresses me out the most in fantasy hockey? Having three great players, all playing the same night. Who do I play? Why do I play them? What's the matchup like? I'm sure you know as much as I do, it sucks having Goals and Assists sitting on your bench. You know how many hat-tricks I've had sitting on the bench because I thought I was smart and played a matchup. Your best players are your best players, so play them!
So where am I going with this; make sure you fill your starting lineup before grabbing your third player at a single position. I mean, you can go with Getzlaf, Johansen, and Tyler Johnson, but then you would have a weak LW or RW, while a stud is sitting on your bench. Instead, fill out your roster first, or at the very least your forwards, before filing out your bench.
Your Bench
Speaking of your bench, it can be one of the most important elements for your title dreams. A good bench is just as important as having a good starting lineup, especially on 'off-days', like Wednesdays, Fridays, and Sundays. What to watch out for, is that many fantasy players take the old saying "take the best player available" too far when filling out the bottom of their roster. My tip, make sure you have an extra player at each position. For the same reason as above, you don't want to have to guess who to play. Should I play Carl Hagelin as my LW2 tonight, or should it be Brayden Schenn?
I tried as much as I could to get a bench LW, C, RW, and G. If you have an additional bench spot in your pool, that's when you take the best player available. However, I would recommend trying to get a player with dual position eligibility for this final bench spot. Last year I had Brandon Dubinsky as my ultimate bench player. He had LW, C, RW eligibility and was a regular in my starting lineup when any one of my forwards had a night off. Someone like this would be perfect to be a "bench player".
I got this on Team 3 with Nyquist in the 9th round. At that point, I had filled out all my starting forwards, and then got Nyquist to be my ultimate bench player, a stud with LW, C, RW eligibility. You can get away with grabbing a few bench forwards before filling out your defense. What to take away from this, try to have your bench with one LW eligible player, one C eligible player, one RW eligible player, one with multi-position availability, and I usually like a third goalie.
Heads Up
While there are dozens, likely hundreds of websites that have fantasy hockey capabilities, there are more popular ones than others. My personal favourites are ESPN, Yahoo!, and NHL. Each has their own merit and faults. Now, full disclosure, I drafted each of these teams on Yahoo!. Yahoo! makes things a bit easier because it seems as if every player has a dual position. This makes it so much easier to fill out a roster, but I like to make things tough. I mean, I've never personally seen Matt Duchene play LW, yet he has dual position on Yahoo! at C and LW, while on ESPN, he just has C eligibility. So with the players that I selected and their listed positions, those are according to Yahoo!'s eligibility system. Make sure you know what players have what position eligibility in order to not be thrown off by different mock systems during your actual draft.
Last Minute of Play
What to take away from all of this:
#1 – Get your goalies early, it'll be a long season without good goalies.
#2 – Mock Mock Mock Mock Mock. You can never have too many mock drafts.
#3 – Your final few picks can turn your squad from a bunch of pretenders into contenders. Have a strategy not only for the first few rounds, but also the final few rounds to fill out your bench.
Well that's it for now. Follow my next few posts where I'll be discussing players that I expect to Boom and Bust this season, as well as list my top sleepers, deep sleepers, and players to tread lightly around. Make sure you follow me on Twitter at @Rstarr_18 for tips leading up to and during the season (shameless plug, I know).
Now go and get your mock on!
Reach for the Starrs (yeah, it's lame, I know)