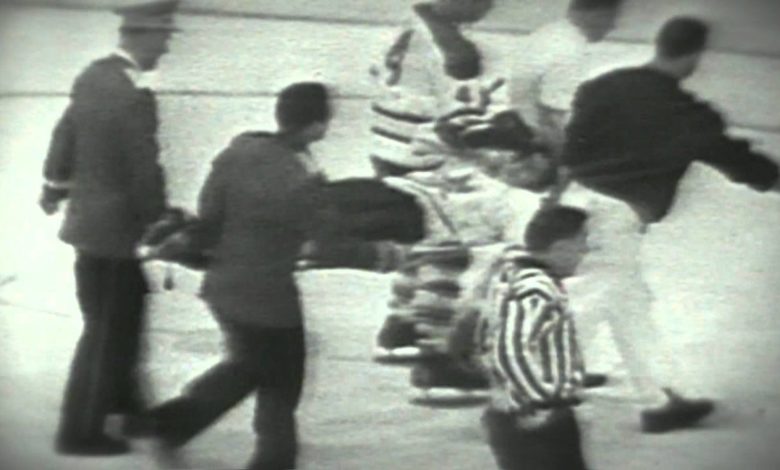 Hockey players are seen as one of the tougher, if not the toughest, athletes in professional sports.
In general from what I've heard, seen, read, and talked about with sports fans, soccer players are seen as eager to take a dive and basketball players are sometimes viewed as drama queens. Not all soccer players dive, but when you see a guy like Neymar get gently brushed and go down and roll over 15 times, it gives soccer players a bad name. The same can be said for LeBron and when he gets carried off with cramps.
There are literally memes about it: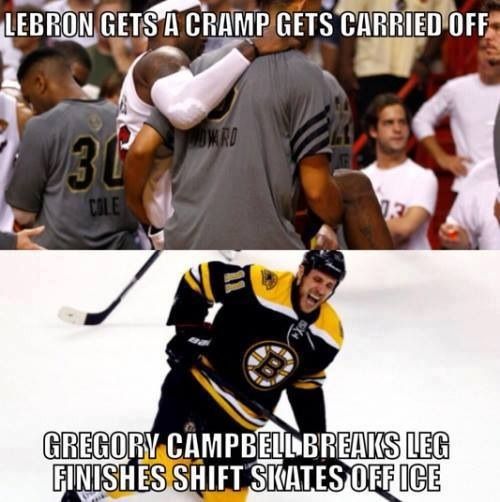 If you're wondering about the second part of that meme, it is 100% true. It's also an amazingly courageous act and gives you a sense of pride if you're a hockey fan and more so if you play the game.
Seriously, watch the clip of Campbell and see how much pain he is in but how he finishes his shift to help his team first:
Note: Youtube is now making you click links to watch their videos on their site, sorry for making you open an extra tab.
He even tries to block another shot AFTER breaking his leg.
Which leads us to today's Throwback Thursdays article. An article about Bobby Baun and his injury and redemption in game six of the 1964 Stanley Cup Finals. That game happened 63 years ago tomorrow (from date of article publication).
Just to get to know Baun a little bit, he was a "good ol' Saskatchewan boy" as Don Cherry would say. He was never a flashy player, but as a defenseman, his big hits and tidy defensive zone play led him to a long career in the NHL.
Even though he never amassed more than 20 points a single NHL season, Baun still managed 224 points in his 964 game NHL career. Although his play and his stats may not be Hockey Hall of Fame worthy, he still managed a solid career and won the last four Stanley Cups in Toronto's history – 1962, 1963, 1964, and 1967.
Today I'm here to talk to you about how a defensive defenseman forever engrained himself in the lore of the Stanley Cup and became an all-time great Leaf in the process.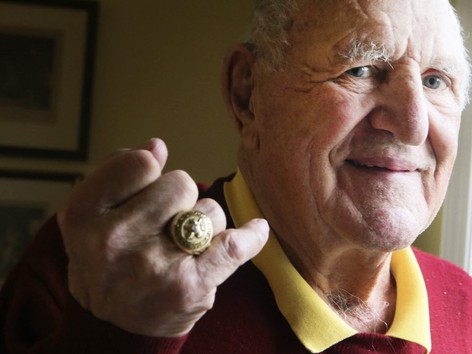 It was the 1963-64 season. Toronto were amongst the favorites again, after winning the Cup the previous two season. After the regular season however, it looked as though Toronto's period of dominance was coming to an end, as they finished third behind a powerhouse Montreal Canadiens team that feature Hart Trophy winner Jean Beliveau and Vezina winner Charlie Hodge and the Chicago Blackhawks featuring top scorer and Art Ross Trophy winner Stan Mikita as well as Norris Trophy winner Pierre Pilote.
In fact, despite this still being in the Original Six era, Toronto would have only had the 10th highest scorer in the league (Dave Keon -60 points) had they not pulled off a trade near the end of the season that saw Andy Bathgate and his 77 points (fourth overall) come over in a deal near the end of the season.
Despite not having the top scorer, best defenseman, or best goalie, Toronto was the two-time-defending Stanley Cup Champion with a solid core that included the aforementioned Keon and Bathgate, as well Johnny Bower, George Armstrong, Red Kelly, Frank Mahovlich, Bob Pulford, Eddie Shack, and some guy who who later became more famous for coffee than his incredible NHL career.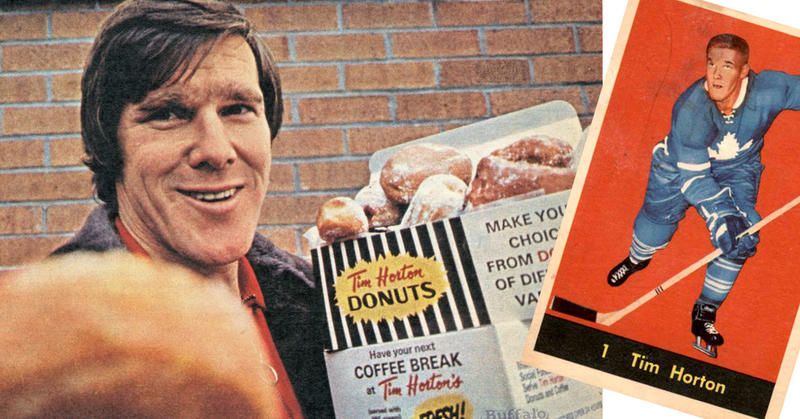 Baun was also an integral part of that deep squad. The depth of the team is what allowed them to upset the first place Montreal Canadiens in seven games, even after falling behind in the series 3-2.
Baun and the Leafs then took on the Red Wings in the Stanley Cup Finals. The Wings had followed a similar path as Toronto. They finished fourth in league standings and had to take on heavy favorites Chicago in the semi-finals. Just like Toronto, Detroit went down 3-2 in the series before winning games six and seven to make their way to the Finals.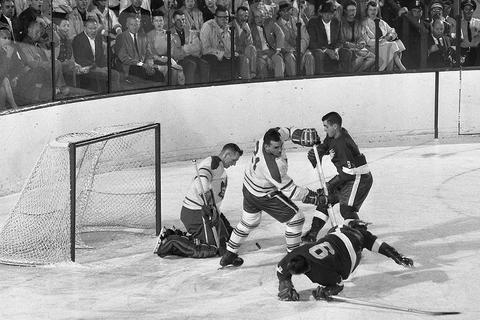 In the Finals, Toronto won the first game 3-2 at Maple Leafs Gardens before losing three of the next four and finding themselves in the same position as the semis. Game six was set to be played in Detroit at Olympia Stadium, making it an even more uphill battle for Baun and the Leafs. It was scheduled for April 23, 1964 – 63 years ago.
The Wings looked to have the upper hand yet again when Howe scored to make the game 3-2 late in the second period. Thankfully for Baun and the Leafs Billy Harris would score his first of the playoffs to tie it up less than two minutes later – with Baun collecting an assist on the goal.
The third period is when the injury occurred. Baun blocked a shot that he remembers coming from Howe, while an NHL.com story says it came from Alex Delvecchio.
At first Baun said it was just numb, but then he describes what happened next in an interview with author Brian McFarlane:
"Back then, defencemen used to take the faceoffs in their own end, and I won the draw from Howe. I spun around, and that's when I heard a noise like a cannon going off. It was the bone in my leg cracking. I knew it right away. I fell to the ice in front of Bower, my leg feeling like cream cheese above my skate. Before I knew it, I was being carted off on a stretcher. I knew then the bone in my leg was either cracked or broken."
Baun tried to get up but couldn't put weight on his leg. He forced himself to crawl to the front of the Leafs net. The played continued for a few seconds before the puck went over the glass. Team trainers came out with a stretcher and carried Baun to the medical room at Olympia Stadium.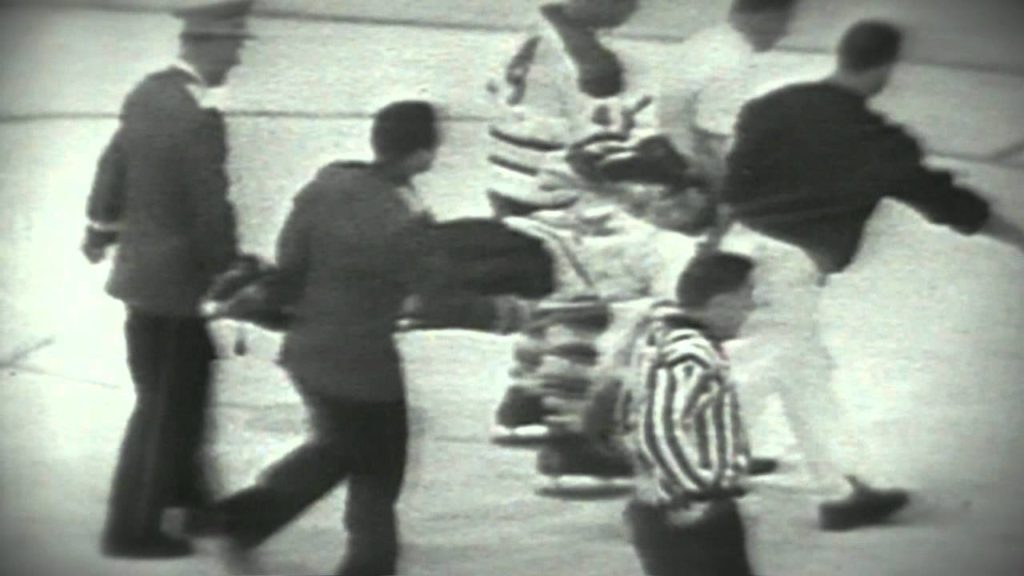 After being told the damage probably couldn't get any worse, Baun was insistent on getting back out on ice to help the Leafs. After all, the game was still tied late in the third period. If Toronto lost, their season was over. Baun remembers it like this:
"In the medical room, I asked the team doctor to tape my leg and freeze it. No way did I want them taking x-rays. I really wanted to get back out there. The freezing seemed to work, and I hobbled back to the bench and jumped over the boards before Punch Imlach (Leafs' coach) could stop me, just before the period ended."
Baun played the last shift of the period, which remained tied. The game was going to overtime.
It didn't last very long. Less than two minutes into overtime (1:43), and about 20 seconds into Baun's first shift, he found the puck rolling along the boards towards him at the blue line in Detroit's zone. Baun says he was originally just trying to keep the puck in the zone, but found he had a clear view of the net.
"I had time to take a shot, so I whacked at it. A ballplayer would describe my shot as a 'knuckleball.' I could see it all the way in. It bounced off Bill Gadsby's stick and somehow found its way past Terry Sawchuk into the Detroit net. It wasn't a classic, but it was my biggest goal ever."
The Leafs won the game 4-3 in overtime. A historic moment in NHL and Toronto Maple Leafs history was born.
The comeback wasn't complete yet though. After icing his leg for two days and taking Novacain ever 10 minutes before game seven, the Leafs took to the ice on Maple Leaf Gardens for the deciding game.
Carrying the momentum of Baun's courageous play and overtime winner, Toronto coasted to a 4-0 win in game seven. Not only that, it was their third Cup win in a row. The dynasty was cemented.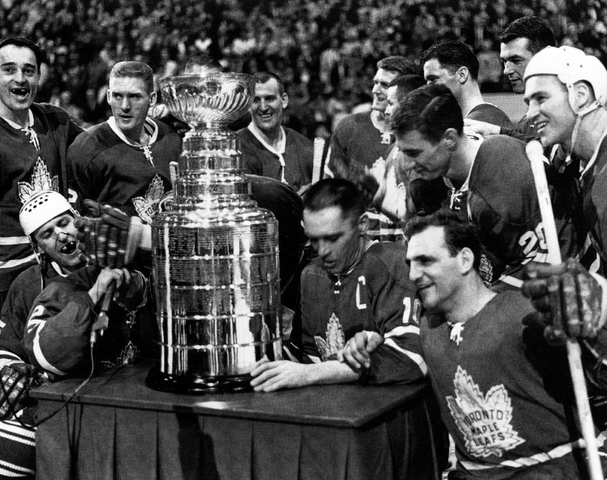 Going back to the start of this article about hockey players being seen as tough, Baun only went for x-rays after the team won the Cup. He was told he had broken his leg just above his ankle. He was in a cast for six weeks after that. Did he regret it?
No, and not only did he give an emphatic no, but he thinks all hockey players would do the same as he said in his interview with McFarlane:
"Was it worth it? Sure, it was. That's how much winning the Stanley Cup meant to me. Most hockey players would tell you they'd do the very same thing."
–
Stay tuned for more Throwback Thursdays and more fun articles at Hooked on Hockey Magazine!