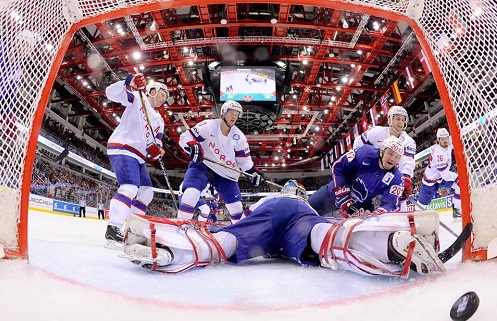 After being part of a couple upsets early on both the winning and losing end, France continued their spectacular run in this year's 2014 World Championship. Norway went up by two in the first period but that would prove not enough as France would rally to take the game 5-4 in overtime.
For those who may have forgotten, France rallied against Slovakia trailing 3-1 to go on and score 4 unanswered goals in the third to complete their second upset win of the tournament. Before that, they were on the losing end when Italy scored a last minute goal to edge them for an upset of their own. Finally if we look all the way back to the opener of the tournament, France took Canada to a shootout where they managed to squeak away with the victory for their first upset of the tournament.
So is it as shocking that France once again displayed their ability to strike quickly and not only rally back into a game but overtake it for the win? Of course not and that's exactly what this squad has been able to do. Although Sweden and Canada are out of reach to catch in the Group A standings, France's win with an Czech Republic loss helps keep them in the mix of a third place finish if they can keep the pace up.
This is truly a team to not underestimate on the ice and to pay attention to as the playoff round nears. Anything is possible at this point and with three upsets under their belt, France certainly has made this year's 2014 World Championship that much more interesting and fun to follow.