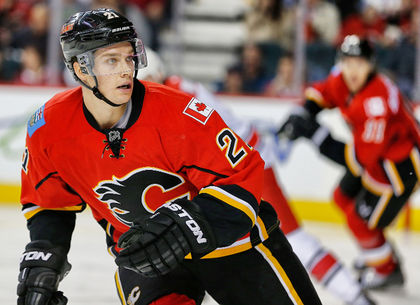 Early on in the season Brad Treliving looked like a genius thanks to some key free agent signings from the summer of 2014. He brought in Mason Raymond coming off one of the best seasons of his career, the Cup champ Brandon Bollig and some defensive depth and veteran experience in Raphael Diaz.
While none was expected to be the best player in his own respective role, each was brought in to at least make a significant contribution to the team's overall success. In the beginning things looked promising, but things quickly changed. Injuries and a lack of production have dropped these players from lineup centrepieces to fringe contributors.
Bollig, for example, was brought in from the Chicago Blackhawks to provide some veteran experience, having won a Stanley Cup in one of his three seasons there. On the ice he was brought in to be a physical presence, play a shut-down role of sorts in a bottom-six role and chip in a few points here and there. Through 33 games, however, that hasn't been the case.
As his role in Chicago grew, so too did his ice time: peaking at just over 10 minutes per game in his third season with the Hawks. This season he's averaging about one minute fewer per game, likely a result of – and a reason for – his decreased hits per game (~2) and lack of points (two).
While Bollig's reduced contributions aren't as noticeable – given they don't feature as prominently on the score sheet – Raymond's struggles are more evident. After a 2013-14 season that saw him put up 45 points in 82 games – each his highest totals since his career year in 2009-10 – Raymond has struggled mightily this season.
He has not only played fewer games (20 of the team's 40), but has also scored much less often – seven points in those 20 games. In an 82 game season that puts him on pace for 29 points, and in a 62-game season (what he's currently on pace for) that would be 22 points. As a result of his lack of production Raymond has found himself a healthy scratch.
Being a healthy scratch has been commonplace for Raphael Diaz as Calgary's top six has performed very well. The only time Diaz draws into the lineup is when one of the regular d-men get injured. When he has drawn into the lineup Diaz hasn't helped his cause much, registering only one point in 21 games, averaging 11:11 of ice time.
Even the signing of Devin Setoguchi – what was essentially an experiment, given his declining play in recent seasons – hasn't worked out. So poor was his play that he only appeared in 12 games with the big club (failing to get a single point) before clearing waivers. Since his demotion to the Adirondack Flames Setoguchi has four points in seven games.
While the struggles of these players are problematic for the team, it has afforded the opportunity for the emergence of other players. TJ Brodie has shown he is a legitimate top-two defenceman and Josh Jooris and Markus Granlund have shown signs of the players they can become.
But make no mistake: it would be foolish to rest the playoff hopes of this team on the shoulders of rookies and other less experienced players. To keep their hopes of reaching the playoffs alive the Flames will need to ask more of Raymond, Bollig and their other veteran players.