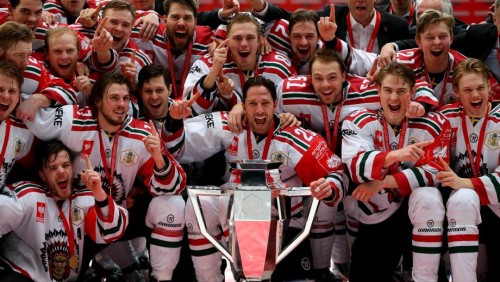 After months of hard work and battling, two teams were left standing in the 2015-16 Champions Hockey League as Frolunda Gothenburg of Sweden traveled to face Karpat Oulu of Finland in the grand final.
Both teams went into the game undefeated, both took all 12 points available as they topped their respective groups in a meeting that saw a dynamic Frolunda offense come against a difficult test with Karpat's strong defense, led by MVP nominee Sami Aittokallio in the Finnish sides net.
The game began with Frolunda looking to avoid the disappointment of a second place finish last season, the Swedish side had the better quality of possession in the opening stages, forcing Karpat to play a more physical game just to try and get some puck time. Frolunda forechecked relentlessly, forcing turnovers but Aittokallio was strong in between the pipes, blanking Frolunda while his side looked to capitalize with their speed going into the offensive zone but they faced a difficult test against Lars Johansson.
It took less than five minutes for the first penalty of the game early with Johan Sundstrom heading to the box for tripping, but the Karpat powerplay struggled to generate any real threat as the two minutes were quickly killed.
Frolunda continued to press as time began to wind down in the opening frame, and finally their pressure was rewarded. After some good passing around the zone, Jacob Larsson fed Oscar Fantenberg who was playing the game with a broken orbital bone, his shot was tipped in front by Frolunda leading scorer Ryan Lasch with the puck bouncing past Aittokallio for the opening score and a 1 – 0 lead to Frolunda.
The Swedish side didn't let up as they were celebrating again just over a minute later, a similar passage of play ended with an innocent shot on net from Henrik Tommernes finding Spencer Abbott in front and his deflection came off a Karpat defenders skate and into the open net to give Frolunda 2 – 0 lead at the end of the opening period of play.
When the second stanza started, it didn't take long for Karpat to find themselves back on the powerplay as Henrik Tommernes was sent to the box for delay of game less than a minute in. The resulting powerplay was much like the first but with one good chance, Draft eligible Jesse Puljujarvi found Lasse Kukkonen alone in front, but his effort was swallowed up by Lars Johansson who blanked Karpat for a second straight period.
At the other end of the ice, Sami Aittokallio was strong showing why he's one of the best goaltenders in Europe right now, the 23-year old who was a fourth round pick of the Colorado Avalanche back in 2010 recovered from allowing two goals in the opening frame to blank Frolunda to take the teams into the final period with Frolunda leading 2 – 0, but they knew full well how important the third period is after they took the same lead into the final frame in last years' final, only to have Lulea Hockey come back and win the game 4 – 2.
Karpat must've been reminded of Frolunda's collapse last season, as they came out fighting in the third period, quickly going on back-to-back powerplays, and while they couldn't find twine they showed a much improved special teams unit which nearly come through as Juho Keranen finally got Karpat on the scoreboard just after a man advantage ended with his pass in front going off a defender's skate and past Lars Johansson who could do nothing about the goal.
The Finns kept pressing in the final frame but Johansson and Frolunda weren't giving anything up despite looking likely to concede again, when Karpat pulled Sami Aittokallio for the extra man, Frolunda kept forechecking hard and forcing Karpat to resort to desperation, and with an extra man and few chances to shoot, the time wound down on the game and sealed a 2 – 1 win for Frolunda Gothenburg who bounced back from last year's defeat to be crowned champions of Europe.