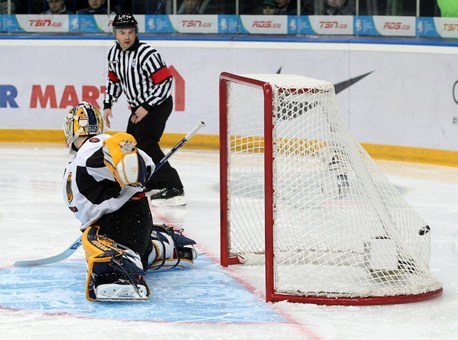 Florida Panther Yaroslav Kosov had a hat trick and Andrei Vasilevski had a shutout as Russia defeated Germany 7-0 on Saturday morning. Germany was dominated for the third straight game as they fell to 0-3 in the 2013 World Junior Championships.
Germany played more competitively than they had against USA on Thursday, actually threatening to score several times and having a few great attempts on their three power plays. However, the first-round draft pick of the Tampa Bay Lightning Vasilevski was a brick wall, refusing to let anything by him and shutting out the Germans who have failed to score in their last 7 periods of hockey.
The German defense continued to allow the opposition too much time and space in the offensive zone, creating countless save opportunities for Marvin Cupper, who actually played quite well despite allowing seven goals on 43 shots. Only a 50-foot wrist shot by Kosov in the third could really be considered a soft goal as Cupper's defense simply let him down early and often.
Nikita Kucherov opened the scoring at 01:18 after Germany had shown some fight early on. Then, following an ominous German power play in which the Russians almost had several breakaways, Nail Yakupov and Danil Zharkov extended the Russian lead to 3-0 by the end of the first period.
Team Germany then opened the second by shooting themselves in the foot with consecutive tripping, boarding, and hooking penalties. They managed to successfully kill the first two, giving them a 100% success rate for the game on three tries. However, Albert Yarullin was able to score for Russia on the fourth attempt, extending the lead to 4-0 after two.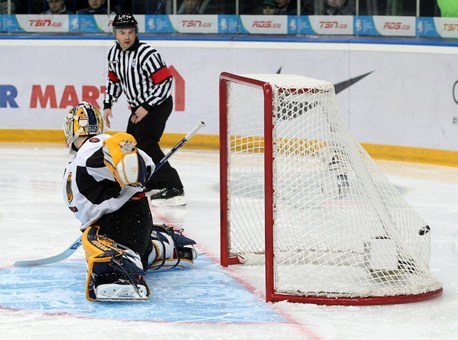 In the third, Cupper and the Germans looked disinterested, allowing a soft goal, a rebound goal, and a shorthanded goal to Kosov, making the game 7-0.
The highlight of the game for Germany came in the third period on a shot attempt by Russia off of a rebound. The puck was ticketed for the back of the net with Cupper lying on his back when Tobias Rieder blocked the shot with his stick, bunting it off to the side in incredibly precise fashion.
Vasilevski picked up the shutout, saving all 41 of Germany's shot attempts. Ironically, Yarullin was named player of the game over Kosov for the Russians despite scoring just one goal.
The tournament begins in earnest now for the Germans as they look to avoid relegation in the 2013 WJC. They now sit in last place in Group B, one point behind Slovakia, who they will face off against on Sunday morning at 9 AM Eastern Time in the last game of round-robin play for Team Germany.