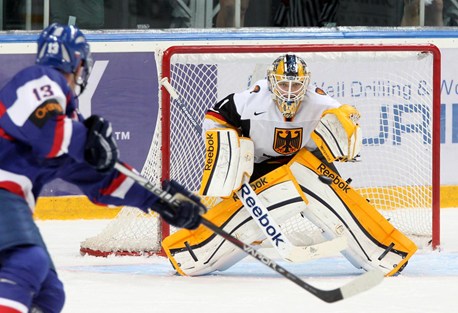 Marvin Cupper made 40 saves and Germany killed six of seven power plays as they registered their first point of the World Junior Championships in a 2-1 overtime loss to Slovakia on Sunday. New York Rangers draft pick Peter Ceresnak scored the game-winner for Slovakia 1:41 into overtime.
In what was Germany's best effort of the tournament, they managed to play down to the wire with a team that had a 3-1 lead on Canada and took Russia to overtime earlier in the WJC. Germany brought more passion, intensity, and effort than in their previous three games in which they were outscored 24-3.
The Germans entered the game against Slovakia on a 7-period scoreless streak, a streak that continued well into this match. They begin the game sloppily on offense (as usual) but playing strongly on defense, getting into position and blocking shots very well.
After a decent power play following a Slovakian interference penalty, the Germans conceded two consecutive penalties, a troubling sign for things to come. They managed to kill both thanks to the stellar play in net of Cupper, who was a brick wall for Germany.
Slovakia out-shot Germany 11-8 as the first period ended in a scoreless tie.
The second period began with about ten minutes of intense, back-and-forth hockey before Oliver Mebus committed a holding penalty that put Germany on the penalty kill. They were lucky to escape the penalty kill without allowing a goal as a series of Cupper saves and lucky bounces on the doorstep of the goal preserved the game at 0-0.
Then, momentum shifted dramatically after Slovakia committed back-to-back slashing and hooking penalties to create a 5-on-3 opportunity for Germany. At 13:56, Tobias Rieder (courtesy of Leon Draisaitl and Sebastian Uvira) ended the Germans scoreless streak, giving them a 1-0 lead and capitalizing on the power play.
Mebus committed a boneheaded delay of game penalty late in the second, which set Slovakia up with their best chance to score. However, Cupper absolutely turned it on during the German's fourth penalty kill, coming up with big stop after big stop before he completely robbed Adrej Bires with the glove hand as the penalty expired.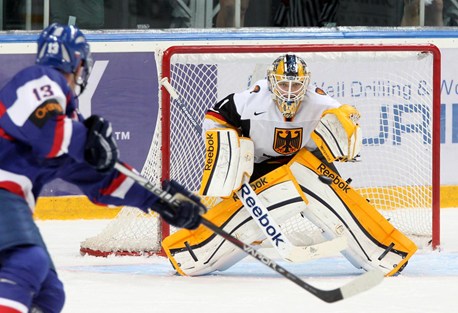 In the third, the pressure continued to mount until Cupper could hold off no longer, allowing Bruno Mraz's rebound goal at 04:02 to tie the game. Then, Cupper proceeded to dominate the last fifteen minutes, stopping two more Slovakian power plays and helping to send the game into overtime tied at 1.
The defensive play of Nickolas Latta should not go unmentioned either as he sacrificed his body on several occasions to keep the Slovakians from scoring, registering several blocks in front of Cupper.
All of Germany's penalties finally caught up with them in the overtime period, after Uvira's hooking penalty gave the Slovakians a 4-on-3 chance in sudden death. Marko Dano set up Ceresnak on a one-timer that gave Slovakia the victory and two big points to pull them into a tie with Team USA. It was only the second shot Cupper was unable to stop out of the 42 he faced.
Germany's players, visibly disappointed and heartbroken, congratulated Cupper as he was awarded player of the game alongside Mraz. They now must sit and wait to see where they will play next as the round robin play finishes Monday. One certainty is that Germany will enter the relegation bracket (or loser's bracket) hoping to stay in the WJC for 2014.
Stay tuned to HOHM for updates!