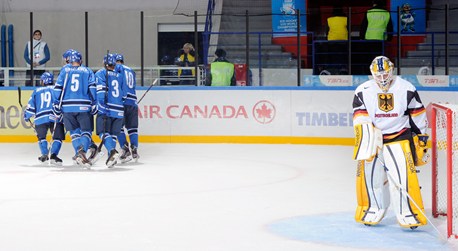 The game may have not been televised but Germany should be thrilled that no one watched this performance. In the first game of the relegation round, Finland stomped on Germany 8-0. Ville Pokka scored two goals and Finland managed five in the third period to close out the Germans.
After scouring all corners of the internet early this morning, I discovered that not a single web site even had a stream of the Germany versus Finland game. It turns out that the hockey gods may have spared me from something horrific.
It didn't start too terribly, as the game remained scoreless until 16:12 in the first period when Artturi Lehknonen scored the game's first goal. Finland only held a 1-0 lead over the Germans despite out shooting them 10-4 in the first.
Finland began to creep away in the second, scoring two more goals to expand their lead to 3-0. Markus Granlund scored at 07:39 and Aleksander Barkov scored at 14:48 as Finland out-shot Germany 20-3 in the second.
In the third the floodgates opened as Barkov, Pokka, Miikka Salomaki, and Joel Armia each scored at least once. Marvin Cupper was the German goalie who continued to face the barrage in net, playing well considering the circumstances. He made 48 of 56 saves.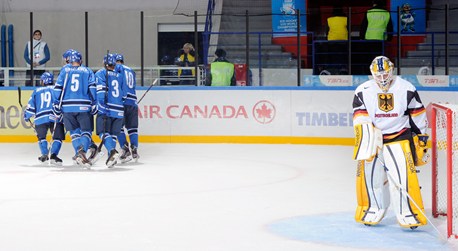 Finland once again out-shot Germany in the third, 26-8, while out shooting them 56-15 for the game. Germany will play Latvia at 4 AM Eastern Time on Friday.
The relegation round consists of a round-robin between Germany, Slovakia, Latvia, and Finland. The team that finishes in fourth place will be relegated while the other three teams will be retained for the 2014 WJC.
Since Germany has already played Slovakia, the points they earned from that game already have been counted towards the round robin. This is why they only have to play Latvia and Finland to close out their journey at the 2013 WJC. Stay tuned to HOHM to see if Germany gets relegated early Friday morning!
Love Reading About Hockey?

Subscribe to keep up-to-date with the latest and most interesting hockey news!
| | |
| --- | --- |
| | We hate spam just as much as you |