I've reached a peculiar stage in my life-that point where you realize that "Holy sh*t, I'm older than some of these guys getting drafted by professional sports teams". It's kind of like a mid-life crisis, except I'm perfectly content driving in my Jetta while I ponder the wasted hours of my days and subsequently cry my eyes out. I could've been there, playing on the sport's biggest stage, getting obscenities hurled at me by opposing and home fans alike, but no. Instead, I'm in the stands, screaming horrid things about Player X's mother. The only difference is that I come home and write about it hours later.
Life is weird, man.
Anyhow, I digress-draft day is upon us. That day where GM's from around the league gather their brain trusts, lock them in a war room deep in the bowels of their respective stadiums, and deliberate upon the futures of their franchises. Everyone focuses on the first round; the pomp and circumstance, the show, where teams find their superstars of the not-so-distant future. NOBODY pays heed to the mid-to-late rounds; for all we know, the only purpose the "brain trust" serves is to blindfold the GM before he throws darts at a big board covered with the mugshots of all 300 prospects. On the sidelines, all we can hope for that one lucky bullseye. It's a crapshoot-the whole damn thing-and yet, it's where teams are built. It's where dynasties emerge.
Once again, life is weird, man.
Traditionally, the drafting of goaltending prospects has been an even riskier undertaking. Common knowledge suggests that properly developing a netminder takes time; a tricky situation, an entire development project can be ruined in a matter of games. A player can have all the intangibles, all the skill in the world, but stick them in the eye of the right sh*tstorm, and development turns into salvage and reclamation mighty fast. For every Henrik Lundqvist, you have a grab-bag of Al Montoya's, Rick DiPietro's and players of that ilk-first-rounders that never quite panned out (or, in some cases [see DiPietro, Rick] that completely, utterly, magnificently imploded). It's Dale Tallon's job to make well-informed picks; once well-acquainted, it's my job to throw out the "yo momma" jokes.
Until that day comes to pass, I'll be here, hopelessly throwing out suggestions to the Panther's brass. Here are two players, who-in my humble opinion-could present some late-round value, and add skill and depth to a talented prospect pool.
Zachary Nagelvoort
University of Michigan
Height: 6'2″
Weight: 190 pounds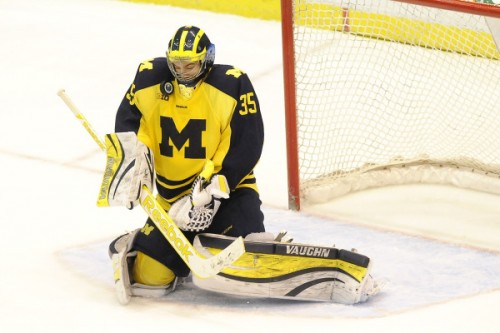 NHL Central Scouting's 20th-ranked North American Goalie, the native of Holland, Michigan currently plies his trade with the Big-10 conference's University of Michigan. If past performance is anything to place value in, the Wolverines have found themselves a winner; logging time for four hockey clubs in the NAHL, Nagelvoort never posted a save percentage lower than .921. Pair that with a career-high Goals Against Average of 2.68 in his rookie season-in his three-game stint with the Kalamazoo Junior K-Wings-and the 6'2″ 20-year old's talent level is apparent. In his first season with Michigan, Nagelvoort appeared in 24 games, making 684 saves en route to compiling an 11-9-3 record. In addition, the collegiate rookie compiled a .929 Save Percentage, bolstering a 2.20 GAA and leading his squad to a no. three seed in the inaugural Big-10 tournament. DRAFT THIS KID WAARBLBLARGHL.
Ilya Sorokin
Metallurg Novokuznetsk
Height: 6'0″
Weight: 158 pounds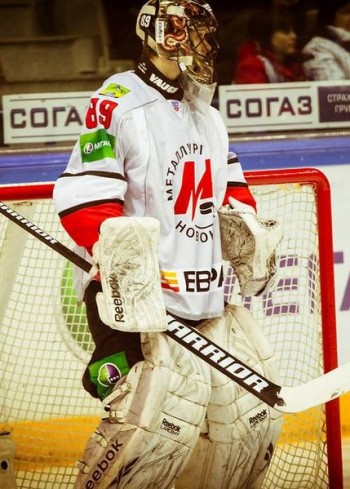 Playing in ANY professional sports league is a feat in and of its own; it takes on new life when said league is Russia's KHL, widely considered to be the second-strongest ice hockey league on God's green earth. That green earth essentially gets exploded when you become the starting goaltender at age 18, splitting time dead-even with a veteran four years your elder. Enter Ilya Sorokin ranked fifth in NHL Central Scouting's Final European Goalie Rankings, the Mezhdurechensk-born goalie has provided a steady presence in the defensive zone at every level he has strapped his pads on.
The product of the Vympel Mezhdurechensk youth team puts up consistent numbers regardless of the quality of competition faced; over the last two seasons split between the KHL and Russia's Junior Hockey League-or MHL-Sorokin has compiled a .915 Save Percentage and 2.84 GAA through 32 KHL contests, to go along with a .916 Save Percentage and 2.63 GAA while playing for the MHL's Kuznetskie Medvedi. Per Eliteprospects.com, The Russian product recently signed a contract extension with his KHL club; regardless, Sorokin's potential as a steady net presence shouldn't prevent the Florida Panthers-or any team, for that matter-from taking a mid-round flier out on the prospect. What's the worst that could happen?