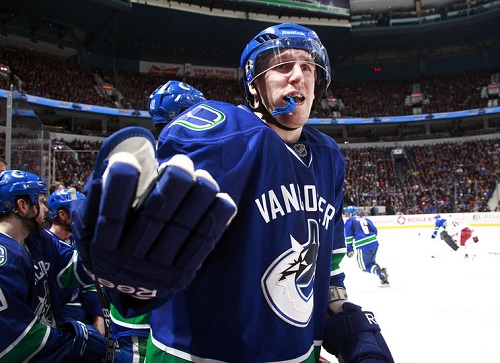 The Montreal Canadiens and Vancouver Canucks announced a trade Monday morning, with Montreal acquiring forward Dale Weise in exchange for defenceman Raphael Diaz. Weise, 25, has played in 44 games this season for Vancouver, picking up three goals, 12 points and 42 penalty minutes.
While he doesn't have a reputation for scoring, Weise does play a hard-nosed game. All three of his goals, including his most recent one against Edmonton, came because he forced his way to the net. Video from NHL.com.
Weise was acquired by the Canucks off waivers from the New York Rangers in 2011. The 6'2, 210 pound Winnipeg native was originally a fourth round pick in 2008 by New York. In 162 games in the NHL, Weise has picked up 10 goals, 26 points and 185 penalty minutes.
"A young veteran with 162 games of experience at the NHL level, Dale Weise is a winger with a physical style of play who brings additional toughness and grit to our group of forwards," said Montreal Canadiens general manager Marc Bergevin in a press release.
There is no word yet on if Weise will be in the Habs lineup when the host the Calgary Flames on Tuesday.