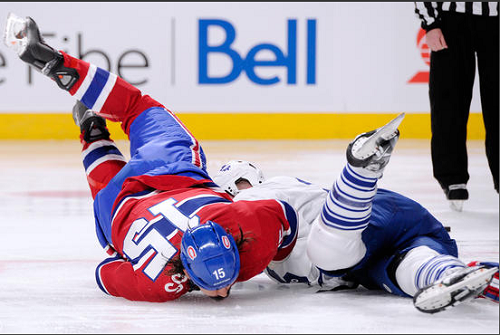 In what can only be described as an unfriendly match, the Montreal Canadiens lost 4-3 to the Toronto Maple Leafs in their home opener Tuesday. But the biggest story of the night was George Parros, who was knocked out cold in his second fight with Colton Orr. Parros was moving his arms as he was taken off on a stretcher, but the incident sucked the life out of the Bell Centre. "It was just bad luck what happened to George," said head coach Michel Therrien. "I heard he was alert when he got to the dressing room, so that's a good thing."
Before the Parros incident, the game moved very fast, with both teams getting extended shifts with offensive pressure. But both teams also spent a lot of time in the box, 100 penalty minutes in total, so there were a lot of whistles interrupting the smooth passing and skating.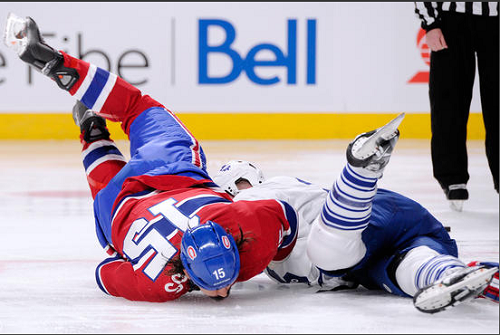 Toronto opened the scoring with a 5 on 3 goal early. Lars Eller and Tomas Plekanec were in the box and James van Riemsdyk's cross crease pass instead went between Carey Price's legs and into the net. Although Eller was in the box early on, his play from then on quickly made up for that. Eller finished the game with two goals and an assist, centering a line with Alex Galchenyuk and Brendan Gallagher. This young line, nicknamed the EGG line, was all over the ice Tuesday and it was clear there would be no sophomore slump from Gallagher and Galchenyuk. Gallagher picked up a goal while Galchenyuk had two assists.
"I tried to play the right way and I got help from my line mates," Eller said.
"Gallagher and Galchenyuk do a great job at winning the small battles and getting the chances."
"I thought the young kids did a good job tonight," Therrien said.
"They had success tonight because they were skating and they were moving their feet." The penalties and goals would continue in the second, with Toronto scoring two more from Dion Phaneuf and Tyler Bozak. And then after Parros went down, Montreal lost it's focus and Mason Raymond made it 4-2. A shorthanded goal from Eller late rounded out the scoring. Entering the game, there were goalie questions at both ends of the rink, but especially around Price. Although he didn't win the game, he did make 34 saves on 38 shots, including some highlight reel ones early in the game. Therrien made sure to say that Price was not the reason they lost.
"He deserved better," Therrien said.
"I thought he was solid and made some key saves, but the execution from our team was not there."
The Canadiens are off until Saturday when they host the Philadelphia Flyers. From there, they head out west to face all four Canadian teams in that conference.