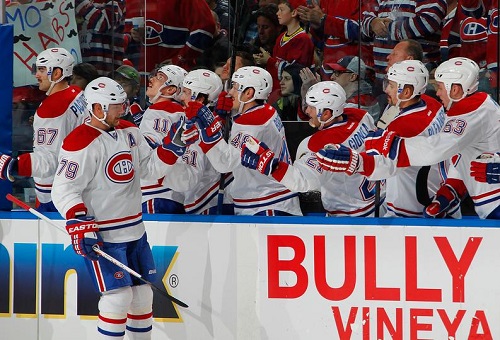 The Habs week will consist of games vs Philadelphia, Edmonton and Toronto. All home games. As we have seen, the Canadiens usually play up or down to their competition, so this week could be an interesting one.
It looks as though for now, Dale Weise is staying on the Canadiens top line with Max Pacioretty and David Desharnais. A lot of fan's bring up the premise that Dale Weise works hard and hence he deserves a spot on the top line. I don't buy it. He works hard in the offensive zone, but he lacks the defensive awareness and ability to play defense on a line that plays against other teams top units every night. Although Dale Weise is not a fit on the top line, he still has useful value in the Habs lineup and should play a solid energy role on the 3rd or 4th line depending on injuries. If the Canadiens look to contend in the Eastern conference this season, they need to remove Weise from the top line and go out and acquire someone to fill that need at the deadline. Look for Bergevin to be hunting for a top 6 winger
Is there anything in a Habs fans life that gives them more satisfaction than a victory over the Bruins? Last night, the Canadiens finished off the season sweep of the Bruins winning the series 4-0. Dale Weise, Max Pacioretty and Andrei Markov had goal for the Habs
PK Subban, Andrei Markov and Nathan Beaulieu have been bright spots for the Canadiens defense this season. Nathan Beaulieu has emerged as a top 4 capable defenseman and has helped take away some of the panic that comes from the Habs defensive woes. If Therrien begins to trust Beaulieu, look for his ice time to increase. The past 7 to 10 games, Emelin has been much better in the defensive zone and is slowly getting back to the top 4 capable defenseman that he is. The addition of Gonchar has been a plus for the Habs as he has slotted in nicely on the 2nd power play unit and helped stabilize the Habs 5 on 5 play
Carey Price is putting together a Hart trophy and Vezina trophy type season. It can be argued that without Price, the Canadiens are likely battling for a playoff spot and not sitting 14 points up on 9th place. Through 52 Canadiens games, Price has started 42 games and boasts a .932 save percentage to go along with a 2.03 Goals Against Average (Yes you read that correctly, 2.03.) Dustin Tokarski has played solid in 10 appearances posting a .916 save percentage and a 2.56 Goals Against Average.
Look for the Canadiens to be active leading up to the March 2nd trade deadline. If the Canadiens want to represent the Eastern Conference in the Stanley Cup, they have a few needs they need to address in order to get to the big dance. If the Habs can acquire a top 6 right winger and a top 4 defenseman, then Habs fans have every reason to be optimistic leading into the playoffs. I have a hard time believing that a general manager like Bergevin whom believes in staying the course will mortgage the future of his young club in order to go on a run this season, even though the East is so wide open
It should be an interesting couple weeks in Habs land. Enjoy it Habs fans.
Love Reading About Hockey?

Subscribe to keep up-to-date with the latest and most interesting hockey news!
| | |
| --- | --- |
| | We hate spam just as much as you |